This year, AGHS became the second high school in the district to introduce a cosmetology program. Taught by Elizabeth Villanti, the class takes up two periods in a student's schedule, this year being 0-1 and 3-4, and spans across three years, with the ultimate goal being for students to leave the class with their cosmetology license. Unfortunately for Juniors and Seniors, the course is only offered to Sophomores.
"I know there were quite a few seniors that were disappointed that they didn't get [into the course]," Villanti said. "Ideally, you're gonna start your sophomore year, so that you can get your hours all completed because the goal is for them to leave the class with the credential, right?"
To test for the license, students must complete 1000 hours of service. Through the program, they will receive 300 hours a year and have plenty of opportunities to make up the final 100 hours through evening classes, online courses, and even job shadowing with local salons.
AGHS offers only the introduction class, as this is the first year. However, the intermediate and advanced levels will be introduced in the next two years, and despite taking up 2 periods of a busy Sophomore's day, students are still making it work with their schedules.
"I have a 0 period and first block," said Bella Bormacoff ('26). "It's a little rough because it's really early, but it's fun."
As far as the curriculum is concerned, the first year will span basics including shampooing, haircuts, manicures and pedicures, some waxing, and basic facials. In intermediate classes, students will build upon those skills, and by their third year, students will move on to create a business plan.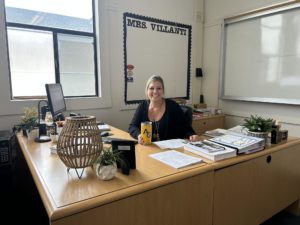 "I'm really excited about this program," Villanti said, "I think we have a really super supportive staff, administration, and, quite honestly, district."
Students are also looking forward to the upcoming year.
"I'm so excited," Molly Elliot ('26) said. "I want to be able to just help other people feel pretty and comfortable in their own bodies."
Not only do students appreciate the class, they also appreciate Villanti and her dedication.
"I love Miss V.," Olivia Hunsicker ('26) said. "I think she's very kind. She definitely shows respect to her students, she's one of the best teachers here."
Villanti and her students hope the program can become self-sustaining by opening the classroom up as a profitable salon at some point in the second semester.
"I toured another campus where the school only paid for the teachers' salary and the maintenance on the building. So that's our goal," Villanti said.
The addition of the cosmetology program will benefit students by providing an exciting and immersive high-school experience, and the credentials they need for a career in cosmetology.