The Hangout Club is a new club at AGHS created by Phillip Reid, teacher and coach, and Banyan Wentzel ('25), hoping to create a safe place for people to make new friends and participate in school events such as lunchtime activities. 
"On lunchtime activity days we will check out what is going on, on days we don't have a lunchtime activity we will have a short meeting to start then play games," Reid said.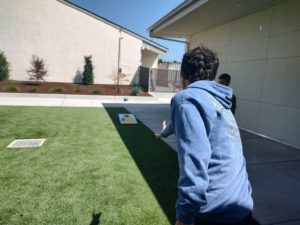 Mr. Reid is open to new ideas for the club, which was recently approved by Mrs. Hurtado. 
"It was me and Banyan Wentzel, it was originally my idea but there was a lot of interest from my students and Wentzel," Reid said. "I came up with the idea and brought it up to Mr. Hurtado, [then Wentzel] caught wind of it and approached me and has been collaborating." 
Reid is ambitious about the club's future, wanting to have a beach cleanup, "A lot of my students need community service so that was simple and you get fulfillment from a beach clean up and so we would like to organize one." 
"I love sports, I've coached for a long time but sports can be intimidating for some students because it's a lot of people and a lot of moving parts".
Reid will be participating in the Special Olympics in May. In addition to helping train those who will compete in the event, he gives other students who can't compete an opportunity to get community service hours. 
 "I want to do one thing in spring and that is the Special Olympics. It's back and it's at Cuesta College in May, and I want to get both interested athletes who want to compete and people who want to help and want to be buddies at the event or help with practice," said Reid.
Although Mr. Reid has many goals for the future of the club, he still wants the first year to be simple, focusing on building up club interest and participation.