Students ran into unexpected roadblocks when trying to use the restroom during class this month. Bathrooms at AGHS have become vaping hotspots, leading administration to close bathrooms across campus with the intention to decrease on-campus vaping. As a result, students have to walk further to relieve themselves, and their complaints prompted administrators to rethink vaping solutions and reopen the bathrooms.
Campus security Bill Flester receives alarms when the vape sensors detect a student vaping in the bathroom. Flester explains that this led to the closure of the two central bathrooms (500s and 900s bathrooms) on campus during class time. This development immediately received backlash from students.
"It takes me five minutes to walk from [my class] to the bathroom and then back so it's a 13-minute trip," London Raftery ('25) said. "Having to waste [over] 10 minutes of my class time instead of when I would normally only be out for 3 or 4. It's really frustrating because I can miss something important."
Scarlet Salter ('25) also struggles with the loss of important class material due to the bathroom closures. 
"Seven minutes is a lot in class for instruction and work time," Salter said.
On average, classes are 55 minutes long. Considering that a bathroom trip can take upwards of 10 minutes, students can miss almost a fifth of their class for a bathroom break.
Many students like Raftery and Salter aren't happy with the hindrance. 
On top of walking farther, "the lines are out the door," Nayeli Schmidt ('24) said. 
These long walks and long lines are not popular among students. 
"We have bathrooms on campus that are there so people don't have to walk super far, but now most of them are closed," Norah Mosqueda ('25) said.
A survey on whether the bathroom closures were "good" or "bad" was conducted with 125 student responses. The study concluded 121 students (96.8%) agreed that the closures were "bad" and 4 students (3.2%) agreed that the closures were "good". Additionally, 6 out of 6 student interviewees agreed that they generally disliked the bathroom closures.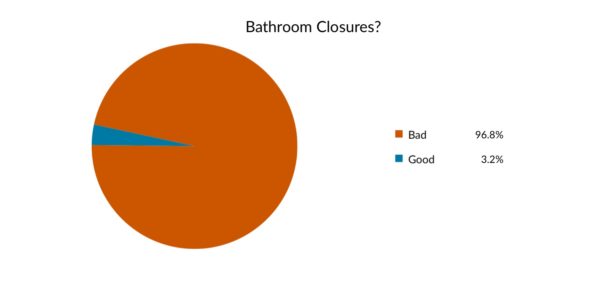 "It's just really inconvenient. I'll find myself not going to the bathroom at all anymore. I'll wait until I get home," Olivia McDonald ('25) said. 
However, for some people, waiting to use the bathroom until after school is not an option.
"I get a period every month," Raftery ('25) said. "It's really tough when I'm sitting in class and I'm like 'I need to go right now it's an emergency,' and then I can't and I have to walk." 
Administrators took notice of student responses. A meeting last Monday addressed student concerns, making some changes to the bathroom closure system. As of September 11th, the 300s, 500s, 900s, and 1000s bathrooms are available to students during class time.