This Thursday, Friday, and Saturday, the Arroyo Grande High School (AGHS) Theatre Company will continue its run of Lauren Gunderson's "Silent Sky."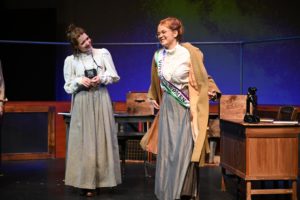 Set in the early 1900s and based on the life of astronomer Henrietta Leavitt, the play details her life throughout her discovery of how to effectively measure the distance between stars, which ultimately revolutionized society's understanding of the vastness of the universe. 
"The show showcases female power and female perseverance in the 1900s," said Olivia McDonald ('25), who plays astronomer Williamina Fleming. "The entire show surrounds the fact that women can achieve just as much as men."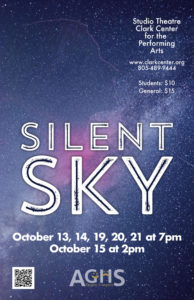 Not only is the premise of the show intriguing, but audiences have also loved AGHS's rendition of Gunderson's retelling of Henrietta Leavitt's life.
"The whole cast did a wonderful job bringing humor and understanding to a life we otherwise would've known nothing about," said audience member and former LMUSD teacher Danny Bamford after seeing the show on opening night.
The show will run for one more weekend, with performances on Thursday, Oct. 19, Friday, Oct. 20, and Saturday, Oct. 21, at 7 p.m.
Tickets are $15 for adults, $12 for seniors, and $10 for AGHS students and are currently for sale in person at the Clark Center box office or online at clarkcenter.org/shows/aghs-theatre-fall/.