An abundance of talent swarms AGHS. Student athletes, artists, dancers, and musicians, line the walkways. Although many students have the dream to continue their passions, some rarely know where to start. That is not the case with Patrick Keith ('26), who released his very own album titled "Deepest Thoughts," an LP with a total of 13 songs.
As it comes with student-released music, there is a slight amount of skepticism regarding quality, however, in Keith's music, one can clearly see the heart and quality in the album.
"I really went at [the writing] with archival [feelings], trying to store my memories almost," Keith said. "I described it as a coming-of-age story. It's my thoughts, my emotions throughout the span of two and a half years. Which range a lot especially when you go through puberty, middle school, COVID, and entering high school. You're going to get a lot of emotions." 
The album released Sep. 29 on a plethora of different streaming platforms such as Spotify, Amazon Music, Apple Music, and YouTube Music.
Keith has always had a special connection with music. While working on the album, he found many outlets for inspiration and an outlook on how he wanted the final product to look.
"Over COVID I watched this one streamer. He created, wrote [and] composed music on streams and he was really good. His attitude about it was: 'Do it for the fun of it and less of what you get out of it,'" Keith said. "And my grandfather was a studio musician. He was on many of the tracks for Fleetwood Mac and [more]. He realized I wanted to do music [like him]."
With inspiration to guide him, Keith broadened his horizons to making and producing his own music. He uses a software called Ableton Live to create his music, all of which he funded himself.
"I bought the suite version. $900 but [with a] student [discount] I got $400 off. So 500 bucks, but I [can] claim all the rights to it," Keith said. 
Along with his new software, Keith needed a way to record his instruments and vocals for his tracks. Such a process would seem chaotic and stressful, however, Keith thrives off it. 
"Chaos- calms me so much," Keith said. "My mom can tell you I'm sprinting around the house whenever I want to record something.  I unplug my headphones and sprint to the other side of the house, record something, and I sprint to the other side of the house to import it [into Ableton Live]."
Along with recording vocals in his home, Keith recorded other instruments to create the sound for his album. Keith played some instruments, while others were created digitally.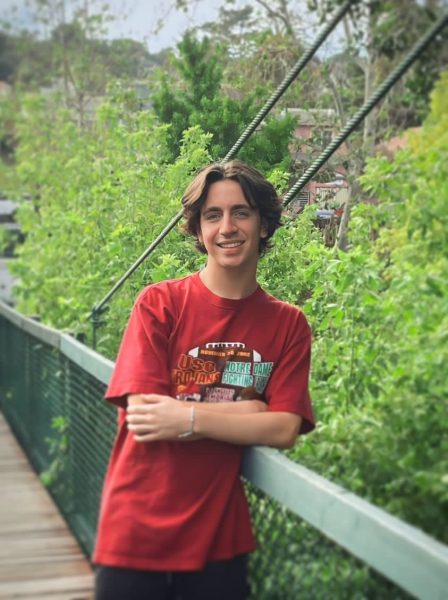 "I used four guitars on the album. I used a 12 string, an acoustic, an electric, and then an acoustic-electric," Keith said. 
"The 12-string and the acoustic I recorded at my house. The electric, acoustic electric- bass at my guitar teacher's house. I did piano at my house. A lot of electric keyboards [too]. I don't have a good way to record drums, so everything's digital but I have a way to make it sound real. That's my goal because my grandpa hates digital things." 
Along with these instruments, Keith used production software known as "plugins". Plugins are an audio enhancer that can be plugged into a Digital Audio Workstation (DAW) that increase the functionality of the sound Keith wants to use. 
"Producers and engineers use very expensive plugins," Keith said. "There's a lot of money in plugins. I have a repertoire of free plugins. All that allows me to do over 200 tracks of sound. On [the song] Faster (and Faster) there were 162 [plugins used]."
After production, Keith then had to release the album in all its entirety. He chose to release his album independently under an independent label, where he would have to give his full track list and album cover to the label whether he thought they were finished or not. 
"You have four weeks to pent up all this stress about 'oh what if I didn't do this right or what if I didn't do that right or didn't set the timing right to my distribution?'" Keith said. 'It's this chaos of stress—right as the beginning of school came. It was not a good combination of events, but then once it released I was done. Not actually. I'm already starting a new [album]."
Due to the increasing success of "Deepest Thoughts," Keith has decided to start the process of creating his second album. Along with that, he wants to take further steps forward in his music career, hoping to create both music videos and a documentary for his songs. 
"It would be so cool to have a music video because it's just one other way to get my music out there," Keith said. "You could say 'getting your music out there' is trying to make money but for me getting my music out there is trying to find people who want to listen to my music… I'm trying to do 10 two-minute [short videos] that cover all the songs. I'm planning to do '13 songs, 10 days' and it's 10 days straight of me releasing this." 
What makes Keith so different is his mindset. He has the creativity to be able to create his own album, but he doesn't do it for the money. He wants people to connect to his music and concoct their own meaning within the song.
"I want people to find my music and want to listen to it. Want to know what it means and feel and make up their own meaning," Keith said. "Because I have to find meaning about my song but maybe someone else hears it in a different way and I love that. I love the way that it could be."
Keith's fourth song off the album, "Blue Jay", is an example of this connection. The song is about his brother moving away to college, turning the sadness of goodbyes into music. 
"I just had a friend who played [Blue Jay] on repeat for five days because her sister moved away. She was crying and it finally made her stop crying. It's sweet," Keith said.