ASB President Raynadel Andal takes the reigns during unprecedented school year
The barriers of endless screens have caused a disconnect between the student body and their school spirit. Despite these struggles, Arroyo Grande High School's (AGHS) Associated Student Body (ASB) president Raynadel Andal strives to lessen the disconnect and leave a "legacy" at AGHS. Andal served as a freshman and sophomore class officer at AGHS, is a varsity cheerleader, link crew leader, is an active member of AGHS' ASB program, and she has made it her mission to leave her mark on our school. 
Andal's older brother Geo Abuan was the ASB president at AGHS in 2016, and Andal has always drawn inspiration from him.
"It started in middle school… I was watching my brother, who is a huge influence in my life, be ASB president and do all of these crazy and awesome things within his community, so I [decided that] I [wanted] to do that," Andal said.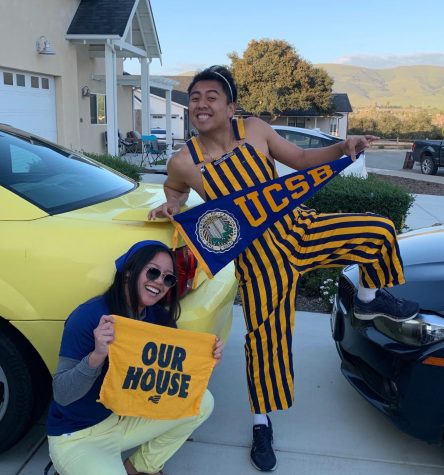 With her desire for leadership so early on in life, Andal has had ample time to grow her experience in being a student leader.
"In 8th grade, I joined leadership and that didn't feel like enough oddly, so I ran for class officer my freshman year to get a taste of leadership and it was awesome."
Andal's experience as a freshman class officer was merely the beginning, and she didn't stop there.
"I was invited to join [the] link crew club and lead around freshmen, which was nice, but my junior year I ended up going out for ASB spirit commissioner. It was really nerve-wracking… but I made it into the class."
Even with Andal's involvement in the student body and her immense amount of school spirit, she still didn't feel like she was doing enough.
"Spirit commissioner was fun and all… but I wanted to do something bigger and impact more people, so I decided to go out for ASB president, which I happened to get elected for, which is pretty awesome, [it's] still super surreal."
Andal doesn't have to dig deep to find the school spirit that lives inside of her.
"I like participating in spirit days or dress-up days, I am active in 3 clubs right now, [the] environmental club, the period club, and baking club… I attend many visual performing arts [performances], athletic games, [and] just support who I can."
Andal wishes to do more than just support the people of AGHS, she wants to connect with them as well.
"[I ran for ASB president because I] wanted to touch the students and staff [at AGHS], and make their year more fun, especially during COVID."
As a leader, Andal believes that every student should be represented as they are: a unique individual.
"Everyone is different, we have various places for people to go to find their own home [at AGHS]… [and] every student matters," Andal said. 
Although recognizing individuality is important to Andal, she also acknowledges the importance of unity.
"We are all united as eagles in a nest, which I'm [proud of]."
ASB president Andal knows the struggle that COVID-19 has presented students with and can empathize with her peers.
"It's really hard to stay positive through dark times like these… especially for us seniors [who were] not able to experience [our] first semester events, and [the] freshmen that didn't get an orientation or feel for how AGHS typically runs, but if we all try to stay optimistic we'll get through it together."
Even throughout these difficult times of physical separation, Raynadel Andal still strives to keep a positive attitude for the student body and wishes to send them a message.
"Just be the light."
Andal's wishes for positivity and acceptance to be spread across the student body are all part of the "legacy" she would like to leave at AGHS.