Iris Jenssen, Sophia Pitrowski claim the time for sustainability is now
Update (2/17/21) :
AGHS Sustainability Club's (S.C) latest project; the creation of donation boxes to gather funds for the SLO Land Conservancy, which works toward preserving local land, biodiversity, and culture, is coming to a close. S.C has raised nearly $100 through this project and would like to thank all who donated!
This club, along with many others entirely led by students working hard to make things happen, show us just how much our students can accomplish when they put passion and drive behind their ideas. To all other clubs putting on fundraisers, collecting materials, or going out and campaigning for a project you care about, keep at it because your efforts are seen and appreciated by your peers, the school, and so many in the community!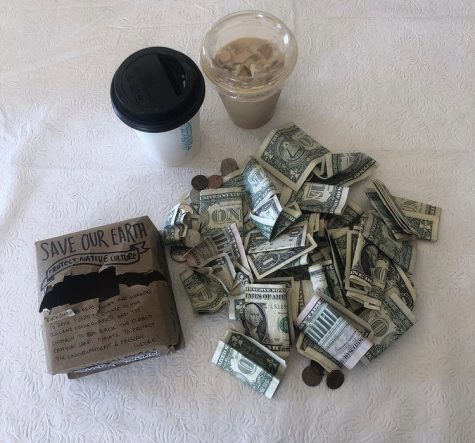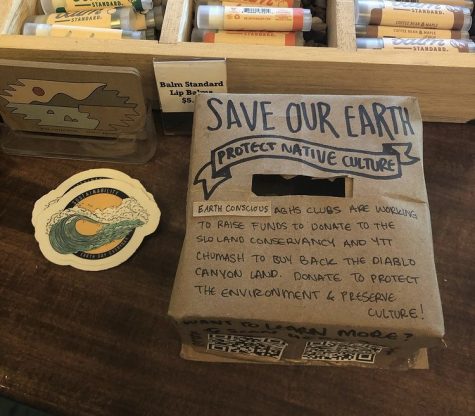 If you are still interested in donating, the club's efforts to help aren't stopping with the donation boxes. S.C will continue to host a recycling drive to reduce the amount of waste put into the community and to raise some more funds for the land conservancy. Their recycling project is a win-win for the health of the environment and students looking for community service hours. Students are welcome to turn in recycling to Mrs. Boos' room anytime from 7:30 am – 3:30 pm Monday through Thursday, and Fridays before 12:00 am and will receive one community service hour per bag (limits may apply). The drive is open all the way until the end of the school year. Items that can be donated include soda/drinking cans, plastics with CA CRV on the label, glass (CA CRV), and aluminum (CA CRV). Please separate your recycling before you donate, if possible, and be sure to wear a mask on campus upon arrival!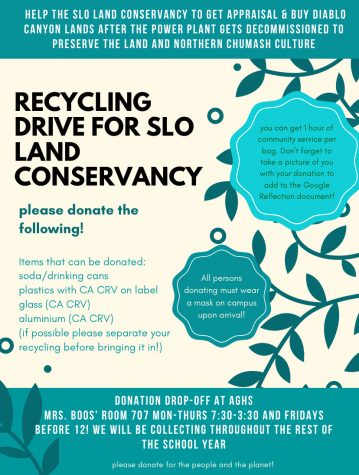 Anyone interested in learning more about how to help mitigate environmental issues may want to check out the sustainability club, the environmental club, and/or beach cleanup club on campus.
Here are their google classroom codes for anyone interested.
Sustainability Club- vnpks34
Environmental Club- dmr6rke
Beach Cleanup Club- g9g367
Original article posted (11/16/20) :
Over the last few years, Iris Jenssen, junior at Arroyo Grande High School (AGHS), has developed a strong passion for protecting the environment and living sustainably. Through her own life, and the development of the Sustainability Club, which she created with her friend Sophia Pitrowski, Jenssen hopes to inform others of the importance of acting against climate change and other environmental issues, as well as inspire those around her to make small changes in their lives in order to help protect the planet. 
"As an individual, I think living sustainably is being conscious of what goes into everything you do. I think awareness and recognition are the most important things," claimed Jenssen. 
One way Jenssen practices awareness is by thinking about the truth behind what she purchases and the necessity of her consumption. 
"Over this year I've just been able to recognize more in different parts of my life like, 'do I really need this thing?'" began Jenssen. "[When I go to buy something like a shirt] I think about all the water that went into it, the cotton, the process of dying it, all the pollution, and I'm like 'You know what? I don't really need this.' So I think that awareness level is the most important thing that any of us can do."
In addition to the environmental consciousness Jenssen holds, she uses a variety of  methods to help reduce her negative impact on the environment. For example, in these past few years, Jenssen has reduced her consumption of animal products and started composting. Jenssen explained that she feels composting is valuable as it provides both personal and societal benefits.  
"I use [compost] to support my garden which provides me with food with no agricultural pollution or pesticides. And the bigger thing is food waste. I don't think a lot of people realize this but when you throw food away in the trash and it goes to the dump, it gets trapped between plastics and there's no air flow or anything, so it's decomposing, but it's actually releasing methane, which is much stronger of a greenhouse gas than carbon dioxide," said Jenssen. "By composting, we have our bin and there is air moving with carbon which is the browns like dead leaves, sticks, and woodchips and then the greens which is my food waste. That works together to prevent all of those emissions from the dump." 
The self-fulfillment Jenssen receives from implementing sustainable strategies is evident through her excitement and knowledge of the subject. Jenssen has been lucky enough to share this joy with a family who supports her and shares her desire to put good into the environment. 
  "The environment is always something I have been interested in, so I talk about it, I am excited about it…I talk about it with my family. I tell them all this stuff I learned, I tell them all the things I want to do, and they help support me in it," explained Jenssen. 
Jenssen is personally motivated by her own research, but her compassion for nature has developed from her family's practices as well.
"My family has definitely always been conscious. We have always been really into nature and connecting with it and recognizing how magical it is. So, I think that is definitely a factor as well. [Through exposure to nature,] I see these pelicans and otters and how amazing they are and smart they are, and it's really motivating. You don't want them to all go extinct."
It's clear nature holds a special place in Jenssen's heart and her thirst to learn more about it every day feeds her passion to make change. 
Jenssen stated, "I would say my awe of nature and how incredible it is, and how diverse, and interesting, and important it is is a huge factor. Just being out in the ocean or on hikes, I just respect [nature] and want to protect it."
With those last few words the fire inside Jenssen couldn't be contained and she spoke with more pace and volume as she said, "Because I respect it, because I see a lot of injustice toward nature, reading about it and learning about climate change, and reading about what our future could be, that's also another motivation for me." 
Soon, with excited hand gestures, Jenssen reenacted a common phone call she has been inspired to make after learning something new.
"I notice that after I read articles, I call Sophia and I'm like Sophia- we have to go right now, sustainability meeting emergency, just wait to hear what I just found," said Jenssen. "After I learn something that's when I stand up and get ready to go." 
However, among the times of great inspiration, there are also days in which it seems there's really not much the individual can do. Jenssen described that nearly 71% of emissions come from just 100 top companies, a fact that has proven a bit discouraging to a single person without much power, yet Jenssen holds onto hope that there can be a better future for these companies if they choose a more compassionate and sustainable path. 
"I feel kind of hopeless sometimes. I get really frustrated like I'm not doing anything, but I think it's just so rooted in the way our world runs. It's going to take some seriously radical innovation and change and new ideas which is actually really exciting for the future if we can make it work," said Jenssen. 
Jenssen claimed, "There's no perfect solution. There is no one way that we can encourage the companies to change," but Jenssen does believe that a lot of good could come from a new set of values for large companies contributing harmful effects to the environment.
"Put the planet and the people first," said Jenssen. "If every company put the planet and the people first, we wouldn't have the destruction, we wouldn't have workers making far less than the livable salary, we wouldn't have all the pollution, etc. because they would be thinking about the environment and the lives of the people before they think about the profit." 
Jenssen doesn't seem to be letting the views of the large companies stop her though. She has formed her own opinion of the severity of issues such as global warming and climate change, and is pushing to find ways to positively impact her local environment.  
"When I was younger it was like 'yeah global warming is the thing that's going to happen. Someone is going to have to figure it out in the future.' That's the most dangerous mixed conception that I think a lot of the population shares… People are having to migrate, things are flooding, people all over the world are having to move their homes, islands are disappearing, forests are burning, the effects of climate change are happening right now. We based our club around the idea that we need to take action."
The Sustainability club channels Jenssen and Pitrowski's desire for change into feasible project ideas focusing on local and personal impact on the environment.
 "If you are anything like me you are raging and you need to do something about it! But, if you're not quite like me, and you just feel like taking some action… if you're into helping the future, you can join us! We want to do projects that are local that make an impact."
The club's latest project idea is to raise funds for the SLO Land Conservancy.
"[The SLO Land Conservancy] are a group in the county that works to protect and care for the open space and the wild land, and they are ones who did the Pismo Preserve…In the future they are going to work toward buying or helping buy the Diablo Canyon that is going decommissioned," said Jenssen. "If we donate right now it might also go towards other important projects that support protecting these natural ecosystems, supporting habitats for these animals, and keeping the biodiversity that's going to help save the climate and the species. It's just a little step that could potentially make an impact here locally."
Jenssen hopes that members of the Sustainability Club, and people outside of the club, gain some awareness to help them build their own environmental consciousness. 
"The biggest takeaway if you want to be a more sustainable individual yourself would be awareness. Take the time to learn where your shirt was made, how it was made, the resources it took. Take a minute to consider some local animals or plants and how they play into the climate or the ecosystem," said Jenssen. "Even myself, I'm not close to perfect. I use single-use plastic. I eat meat. But, I am just more aware and I think that's definitely a really good step for people."
Iris Jenssen, Sophia Pitrowski claim the time for sustainability is "now" pt 2
Sophia Pitrowski, junior at AGHS, and co-leader of the Sustainability Club shares a similar drive to Iris Jenssen; she hopes she can influence others to think about their day to day actions and how they are impacting the environment. She is also motivated to take positive action in any way she can.
"I would define sustainability as trying to preserve the present as much as possible so that the world is still thriving and available to live in in the future," said Pitrowski. "Living sustainably is trying to do as much as you can to preserve the Earth, and trying to make little changes as much as possible."
Some of the ways Pitrowski stays environmentally conscious in her own life are through changes in diet, transportation, and consumption when going out. 
"I try to not eat meat and animal products and not to drive too much…I suggest trying to plan ahead if you are going out and you are going to get food… most of the time they give you plastic things so bringing your own utensils or things like that."
Pitrowski holds a love for nature as strong as Jenssen's. Pitrowski feels so deeply in regards to the environment, that sometimes it can seem scary. Despite the pain one may feel as they learn about the potential future, Pitrowski uses it as a motivation.  
"Honestly climate change just really scares me so that's a big driving factor…also just keeping the Earth pretty because it is very much enjoyable to see the world and I hope that other generations in the future get to enjoy it too."
Pitrowski's plea to large companies which may not have the same mindset as her is to think of the danger they are creating for their children or grandchildren.
"Please act so that you don't destroy the future for the next generations. Act compassionately toward your own kids or people who should see the same future and the same life and opportunities as you."
Pitrowski won't just shrug this off as the responsibility of these large companies, though, as she is committed to contributing to a better future as much as she can, starting with the Sustainability Club. 
"We really wanted to see immediate action happen on campus, so we were going to try and do something about that, so we decided to make our own club," said Pitrowski. 
And she hopes she isn't alone in this fight for a better future. 
"I think people should join [our club] to help fight climate change with us and make a difference. We don't have that many people right now, and I think there is power in numbers, and they should join us so that we can get people excited and motivated to make a change. And every single person does really matter in helping." 
For the individual, the best way of helping may be starting local. Pitrowski describes her take on the Sustainability Club's latest local project idea, raising funds for the SLO Land Conservancy. 
"I am really excited about the social justice aspect of [the land conservancy project] going along with the sustainable initiative. I don't mean to speak for them, but it sounds like the Chumash people are really connected with the Earth and focused on preserving the land… I hope that the project brings peoples' attention to both the fact that we are living on stolen land, and we are working toward a more sustainable future."
Pitrowski wishes that each club member, as well as those outside the club, are motivated to learn about these environmental issues and make a difference. 
"I really want to tell people why it matters and why we need to do it now, and protect the Earth, because that is really important, especially now."