Vonderheide family In-N-Out quest
Sam Vonderheide and his two kids went on a journey to visit all of the 358 In-N-Out locations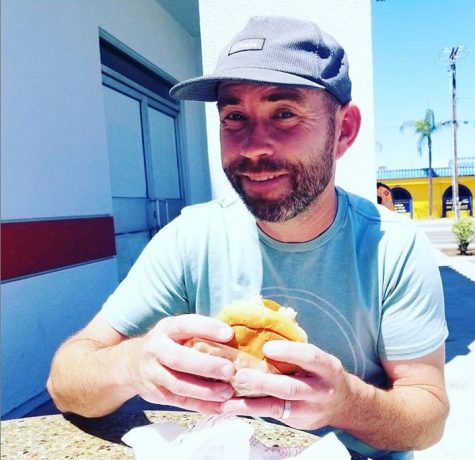 Any Californian worth their weight in sea salt is familiar with In-N-Out Burger and the profound impact it's had on our state's culture. The fast-food chain, which began as a drive-thru hamburger shack in Baldwin Park, now serves over 300 locations across the Southwest. In the 72 years since it's been founded, In-N-Out Burger has gained a reputation for its delicious food, high-quality ingredients (their beef is refrigerated – never frozen – and their vegetable toppings are prepared fresh daily), and relatively inexpensive menu, earning the restaurant a cult following of food enthusiasts across America.  
Sam Vonderheide, a calculus and computer science teacher at Arroyo Grande High School, is one such In-N-Out Burger aficionado. Though mathematics may be his life's calling, his passion for In-N-Out Burger remains unmatched – even among the restaurant's most devoted fans. Earlier this year, Vonderheide's admiration for In-N-Out Burger compelled him to embark on a road trip to visit all 358 restaurants. Accompanied by his 12-year-old daughter Emery and 10-year-old son Berkeley, Vonderheide's 9,200 miles and counting journey has taken the family through the urban sprawl of southern California and into the far reaches of Texas, Nevada, Arizona, and Utah. As of November, Vonderheide has travelled to over 280 In-N-Outs, using the free time granted by weekends and holidays to reach his goal.
In-N-Out Burger is more than fast-food to the Vonderheide family: it's comfort food. From his parents' teenage years in California's Inland Empire to his children's upbringing in Atascadero, the restaurant has served as a home on the road for over three generations of Vonderheides. Sam Vonderheide's own memories with In-N-Out can be traced back to his early childhood.
"We'd go to visit my grandparents in southern California pretty often when I was a kid. On every trip, we'd stop at In-N-Out at least three times. My mom loved it so much that she would even buy some extra burgers to take home and heat up in the microwave!"
Though Vonderheide had been planning an In-N-Out Burger-centric road trip prior to 2020, it didn't become a reality until his summer vacation plans fell through as a result of the COVID-19 pandemic. 
"We had a road trip planned earlier this year to drive to Minneapolis … but, because of COVID, we were a bit iffy on travelling so far and coming into close contact with people," Vonderheide said. "I was tucking my son into bed one night and I asked him, 'What else could we do for a road trip this summer?' And he suggested that we should visit every In-N-Out! I was very proud of him."
The road trip began in Lancaster, California on July 7th at store No. 43 (each In-N-Out Burger establishment is designated with its own number, usually printed on the kitchen's walk-in refrigerator, giving every location a unique identity.) Vonderheide's original plan was to only travel to 90 of the 358 In-N-Outs.
"The first part of our trip went exactly the way we planned … hit Palm Springs, Palmdale, all these random towns in the desert … hit Arizona, Texas, Utah, Vegas, then come home. That'd be around 90 In-N-Outs." Vonderheide said. "As we were driving back home from Arizona, we ended up spending an entire day visiting the restaurants in San Diego, and then another day doing south L.A.… we figured, why stop at 90 when we could go for 180? It sort of grew from there…"
In less than two weeks, Vonderheide and his children ended up visiting over half of the country's In-N-Outs. To document their adventure, Vonderheide created an Instagram account (@innoutroadtrip) to share the photos he'd taken at each In-N-Out during the road trip, including facts about the history, architecture, and layout of every location he's been to. 
"One of my friends suggested on the first day of our trip that I make a social media account to post all of the photos we would take. At first, that's all it really was. However, as we decided to visit more In-N-Outs on the way home, I tried to promote the page and get more exposure … it's pretty much become a fan page for everyone who enjoys In-N-Out Burger."
Vonderheide's account has now accumulated over 4,500 followers. His road trip has also gained the attention of hundreds of In-N-Out employees, including In-N-Out Burger CEO Lynsi Snyder.
"It started with a bunch of managers who wanted to give us stuff; we received some In-N-Out merchandise that's reserved for either employees or special customers. Then we got to visit with some people who worked in the corporate office, and we were invited by In-N-Out's history and culture coordinator on a tour of the original store … finally, Lynsi Snyder saw what we were doing and sent us some messages, along with a package filled with store memorabilia."