The recycling program was brought to life this year thanks to the Environmental Club and new principal, Brad Grumbles. The main goals of the program are to reduce waste, start a composting program, and educate both students and staff on campus. The program now controls the recycling and sorting that occurs on campus. 
"What we can control is what happens in the food area," Grumbles said. 
With this control, the Environmental Club and Staff have prioritized monitoring students' actions. The Environmental Club created new posters that are now outside the cafeteria to remind students to sort their recycling and give a visual representation of what can go in the different bins.  Posters are now inside every classroom above recycling bins.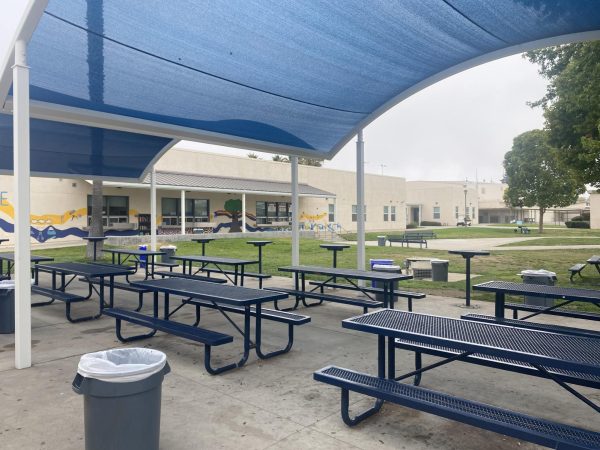 Grumbles has only good things to say about the recycling program. He feels the Environmental Club did a fabulous job at running the program. Grumbles also feels changes have happened on campus since the program started. 
"There's definitely more trash in the [appropriate] bins, and that is by observing the cleanliness of the campus," Grumbles said. 
Students have also noticed a cleaner campus.
"I noticed there's less litter on the floor and in the quad and the hallways," Dariana Tapia ('25) said. 
"I definitely see less trash floating around campus than last year," Alexa Leyva ('24) said. 
Aside from decreasing the amount of litter on campus, another goal of the recycling program is to make everything compostable, in line with the new law passing in 2026 requiring schools to compost.
"We're also working with the food services group to have all compostable materials, so ultimately, we don't have to separate [the food and plates]," Grumbles said. 
Students feel that the compostable trays and materials in the cafeteria makes it easier when it comes to sorting waste.
"It takes less time having to sort the food and [being able] to throw it all in one bin is better," Leyva said. 
The new waste sorting program has helped AGHS keep a cleaner campus and get ahead of other schools when it comes to composting. Students are on the lookout for the recycling and composting bins when out on campus.