TTaylor Swift, Spotify's top streamed artist worldwide, has been a role model to many since the release of her (self-titled) debut album at 16 years old in 2006. Her career, which spans 17 years, is the same age as many current high school students, and it's probably why so many AGHS students think of themselves as "Swifties."
Lucy Anselm ('25) has been a fan of Swift's music since she was a baby and is still a fan today.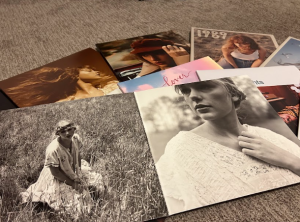 "I feel like she finds ways to keep writing about experiences. With Folklore and Evermore, she created these two albums (that were fictional) out of real human emotions that she felt but out of fictional situations that made them so interesting and connected to so many people," Anselm said.
Hailey Kelly ('25), a fan since she was four years old, continues listening to Swift's music today.
"She's very relatable for someone who's been famous since she was 16, and she hasn't lost touch with emotions in the way that we see some child stars do," Kelly said.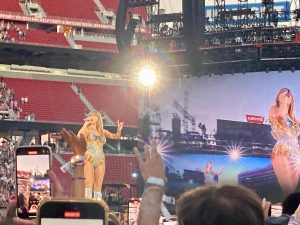 Daniel Dixon ('25) has been a fan since the release of Red in 2012.
"Her lyrics are just so good, and she is such a genuine and nice person," Dixon said. " [Her music] helps ground me, and it's very nice to listen to while I'm doing other stuff."
A part of the reason Swift is loved by so many is the hidden details known as "Easter eggs" she leaves for fans to find. Swift is known for leaving hidden secrets tied to her other albums, future songs, or the next album she plans to re-record in her songs and music videos, like wearing colors associated with an album or the name of a new song hidden in the background of a video.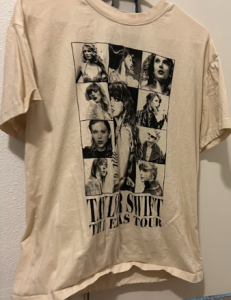 "There are certain [Easter eggs] that you can almost see immediately, like the number 13 or the colors of all the albums, since you've been doing it for so long," Anselm said. "There's just so many lyrics that seem very simple, but that's what is so honest about them. And some of them are poetic, which makes them very interesting to analyze."
Even though there are many Swifties at AGHS, not everyone is a fan of her music.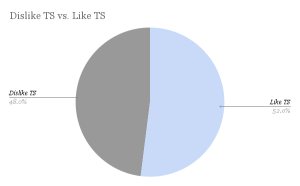 "It's a little overrated, and I think people go crazy because they see a woman sharing her feelings and talking about past experiences with relationships, and I don't really like the genre of her music," Nick Harris ('25) said.
The Swiftie community is formed mainly through the relatability of Swift's music that she creates. Even though not everyone is a fan of her music, the songs she creates impact fans across the nation. And as long as she continues to release new music, Taylor Swift will "never go out of style."