It's practically Christmastime, which means it's time to grab a peppermint mocha from Starbucks, blast seasonal music, and finally break out cozy sweaters.
But with December also comes stress from finals and cold, unpredictable weather. So, to keep the Christmas spirit alive, here's a list of activities you can do every day leading up to the 25th.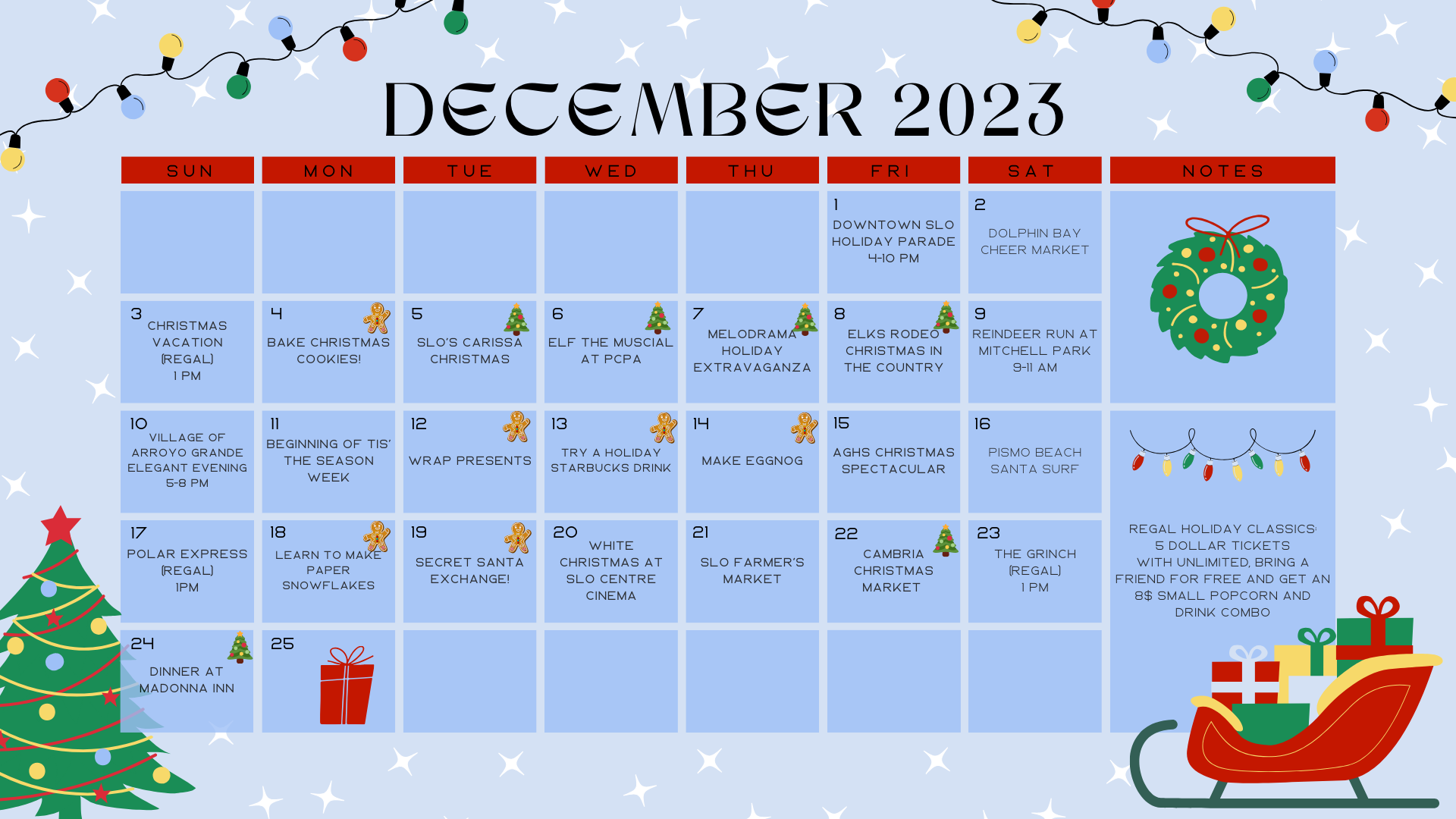 Key: 
A tree means the event repeats multiple days in December, of course, these are just suggested days, but also keep in mind that you may need to sign up or purchase tickets ahead of time due to popularity 
The little gingerbread men are simpler things you can do at your house for practically free!
Parades:
December 1st: Downtown SLO at 4-10 PM
December 3rd: Arroyo Grande at 5PM
December 4th: Grover Beach at 9:30 AM
Markets:
December 2: Dolphin Bay Cheer Market at 11 AM-4 PM
December 3: Big Ditch Holiday Market at 10 AM-4 PM
December 7, 14, 21: SLO Farmer's Market at 6 PM
December 10: Arroyo Grande Elegant Evening at 5-10 PM
November 24- December 23: Cambria Christmas Market
Movies and Shows:
December 3, 16: Christmas Vacation at Regal at 1 PM*
December 10, 23: The Grinch at Regal at 1 PM*
November 26, December 9: Elf at Regal at 1 PM*
December 2, 17: Polar Express at Regal at 1 PM*
November 9- December 23: Elf The Musical at PCPA
November 17- December 31: Melodrama Holiday Extravaganza
December 20: White Christmas at Downtown Centre Cinemas at 7 PM
*Regal in Arroyo Grande is having a holiday special for these dates, where tickets are 5 dollars. There will also be more discounts for Regal Unlimited Members
Other Holiday Events:
Dates Vary: Christmas at the Carissa 
December 9: Reindeer Run 9-11 AM
December 16: Pismo's Santa Surf Time TBA