Things are getting hairy for many students during lockdown
Is it a result of salon closures, a life without facing peers daily, or simply boredom?
Eight months ago, the idea of haircuts and dye-jobs at home likely seemed daunting, especially when students had school each day. 
However, the pandemic has left everyone with nowhere to go for a haircut, and no judgmental peers to face on a daily basis. Combine this with the boredom of sitting at home every day, and the result? Teenagers taking matters into their own hands.
The students at Arroyo Grande High School are no exception. Social media feeds are flooded with pictures of quarantine haircuts and dyed hair.
High schoolers expressing themselves through their appearance, specifically their hair, is nothing new.  Some students have been cutting and dyeing their own hair for years. Dez Ambos('22) has her reasons for regularly cutting her hair on her own.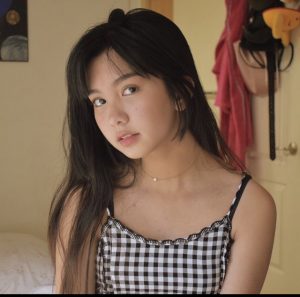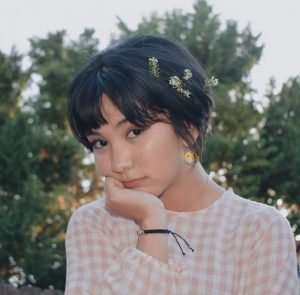 "I don't want to ask my mom to bring me to like Supercuts or something… I don't really trust anyone with my hair," explained Ambos.
While haircuts at home are commonplace for her, at the beginning of the lockdown Ambos decided to alter her hair drastically after growing it out for several years. Her friends watched over a live stream as she chopped away with kitchen scissors.  
"I don't use actual hair cutting scissors. [Kitchen scissors are] really bad for my ends, but do I care? No," she admitted through giggles.
Despite the massive change to her appearance, it was a spontaneous decision and she stuck to it.
"It took me like one day to think about it. No regrets at all. And I was like, 'I'm just gonna do it.'"
Ambos attributes her choice to being stuck at home and the boredom which followed suit. 
"Yeah, I wouldn't have gone for it because I was just vibing with my Sailor Moon-esque hairstyle," she said, referencing her contentment with her old hair and its influence on her style.
Ambos has a light-hearted attitude and believes there's no harm in going for something new.
 "It's fun, even if you mess up. It'll be like a funny meme or something." 
Kevin Sweeney('22) is familiar with home haircuts, but he hadn't buzzed his hair in years leading up to quarantine.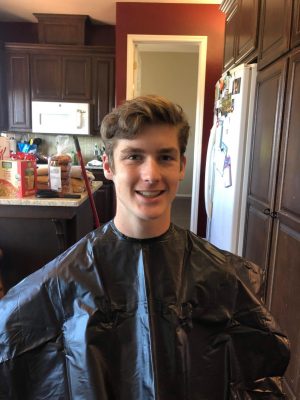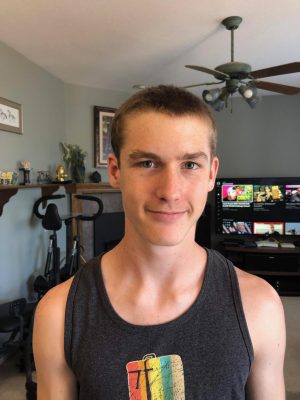 "Everything shut down [and my hair] got long and annoying so I chopped it all off," Sweeney explained. 
"I didn't really care how it looked at the time… I went for a function over fashion."
Despite his functional motives, he still enjoyed the experience of his dad cutting his hair. 
"It was entertaining. We just kind of
plopped down and made jokes. [It was] the least serious barber experience I've had," Sweeney said. 
While hair is a simple thing for him, he has fun with the idea of doing something drastic.
"I could get like a racing stripe. Maybe it'll make me run faster," Sweeney laughed.
"If I was ever gonna dye my hair, I think I'd go for purple."
Sweeney and Ambos may be used to changing their hair at home, but for some students, it is an entirely new experience. Carmen DeChaine('21) dyed her hair for the first time in April.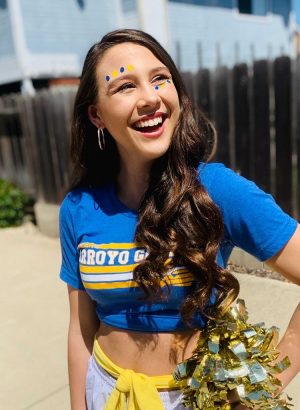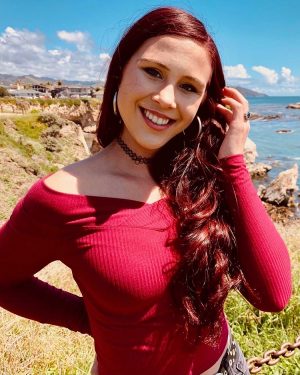 "I wasn't in school. Cheer was put off which is the sport I do and we can't really have dyed hair in cheer," said DeChaine.
The lockdown provided her with an opportunity she wouldn't have otherwise had. Having time to herself has led to some personal growth.
"I feel like I definitely cared a lot more before quarantine, but also quarantine has helped me realize that I shouldn't care what people think."
Dyeing her hair was a snap decision despite her wish to do it for so long.
 "Quarantine hit and my mom and I were in CVS and she turned to me like 'do you want to do it now?' I'm like, 'yeah, alright.'" 
DeChaine admitted that things would have gone better if she had been able to have it done at a salon, referring to her scalp temporarily being stained red and the messiness of the dye.
"It looked like a murder mess in the bathroom when we did it," she joked.
"My mom was like, oh you have darker hair. You'll need two boxes. So it stayed in longer than it was supposed to, and was
definitely a laughing experience," she said. 
"I loved the end result. I was very happy with how it turned out, and I really want to dye my hair again."
DeChaine's new hair compelled her to make more choices solely for herself.
"I've always known that dying your hair, cutting your hair, and how you dress [are] definitely [ways] of self-expression, which I love."
"I definitely felt more urges to express who I am and … I started dressing a little bit… edgier sometimes," DeChaine said.
She hopes that other students make the most of this time in their lives, quarantine or not, and experiment with the way they feel best to express themselves.
 "This is your time to express yourself. Your teenage years are when you're supposed to find out who you are… [and] how you present yourself is a good way to do that," DeChaine said. 
While their experiences differ, DeChaine, Sweeney, and Ambos share a common idea. For varying reasons, the three students each believe that people shouldn't shy away from trying something new.
"This is when you can get that piercing, this is when you can dye your hair, this is when you can cut your hair. Just do what you can as a kid before you have to grow up," said DeChaine.
Sweeney sees it as a minimally consequential choice.
"I mean even if things go horribly wrong and you end up bald you probably won't see people again until you have hair back. If you're not really encountering anyone then it doesn't really matter how you look and it's just for yourself," said Sweeney." So feel free to experiment with different things and maybe try something new."
For Ambos, it's about allowing the individual to take control of their life without shame.
"Don't make fun of girls who got breakup bangs or something, because they did it to empower themselves… And guys too, they get haircuts after breakups, I've seen it. Yeah. my brother did once and he looked like a stray dog."
Clearly, each haircut and dye-job has its own unique story. The important thing is that these students are taking it upon themselves to ensure that their story is their own.