COVID-19 has caused even more distance between citizens and their loved ones in the Army
Sandy Regoli and Arriana Schrantz comment on their experiences with having a son and boyfriend in the Army during the pandemic.
About 180,000 young Americans enlist to join the United States military every year, leaving nearly 180,000 families longing for their loved ones annually as well. The struggle of physical separation from a loved one seems to be universally difficult, and due to the global pandemic taking the world by storm, families are seeing their soldiers significantly less often due to the dangers of COVID-19. 
Sandy Regoli, mother of 18-year-old Army soldier and Arroyo Grande high school (AGHS) graduate John Regoli, knows this struggle all too well.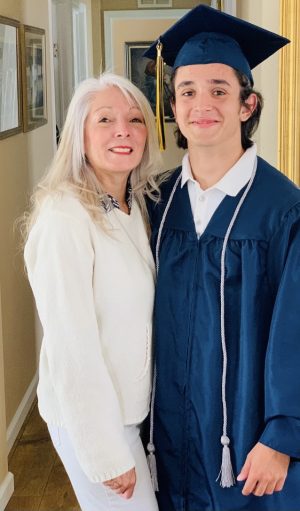 "[My son] joined the [Army] on July 13, 2020, but he actually enlisted [on] February 12, 2020."
This was not the original date for Regoli's son.
"[His ship date] was a week before the original date, [it was originally] July 20, 2020."
In a typical scenario, future soldiers would not be able to spend their last few days with their loved ones before leaving for basic training (BCT).
"Normally they take a bus from your town to the [Military Entrance Processing Stations] center and then from there they ship out," Regoli said.
Regoli opted to savor the last few moments she could with her son before he left for basic training, which is not an opportunity many mothers receive.
"I made the [choice] to go with him to spend the last few days with him… knowing that COVID existed and there may not have been too many days that I could see him [after that]."
Due to COVID-19, an already limited amount of time to see her son is now diminished to no time at all. 
"Originally he went in on July 14 and we were under the assumption that we would see him for graduation which would have been September 24,… [but] about 2 weeks [before that time frame] we were informed that all graduations until the end of the year were closed to family members because of COVID."
Thankfully, Regoli did get to see her son at his graduation ceremony, although it may have not been in the most traditional way.
"[I was] able to go [a] virtual graduation, it was all that was offered so we embraced it and made the best of it. I took the time off of work and sat down and watched the graduation. It's [just] what 2020 offers with COVID right now."
Arriana Schrantz, an AGHS graduate, can relate to Regoli's disappointment. Shrantz's boyfriend Alex Crisp, a current Army soldier, and AGHS 2020 graduate joined the Army on June 15, 2020, and Shrantz has not physically seen her boyfriend since that day.
"[Alex] was supposed to come home after BCT, but because of COVID, that original date has been pushed to the end of [Advanced Individual Training] (AIT), and because he is being stationed overseas, it didn't make sense to send him over just to have him come back for Christmas, so the date was moved to Christmas."
Even after six months of separation due to COVID-19, Schrantz continues to question if she will see her boyfriend during the holidays.
"Because of COVID, that date for Christmas is up in the air, and there is a slim chance he can come home, fingers crossed." 
Despite the hardships both Regoli and Schrantz have faced thus far, they believe that the best advice they can give to those in similar situations is to simply be supportive.
"Just be patient with them. It's an uncertain time and everything is up in the air. [Being] patient with them and [supporting] them always is huge, especially when they may not be sure when they are coming home," Schrantz advised.
Sandy Regoli's advice was quite similar to Schrantz's.
"Support them, recognize that they are not in control of not being able to see you… recognize that this is not about you as a parent, it's about them as a soldier. The bigger burden is on them because of COVID," Regoli explained.
If you are in a similar situation to Regoli or Schrantz, know that you are not alone. In these troubling times, accepting change is difficult yet essential. Try to focus on the things you can control, and the love you hold for those close to you.