DIY holiday gifts and AGHS student business' to shop from this season
The holiday season may not look or feel the same this year, but there is still a way to spread some holiday cheer. Many people want to give a gift that will bring joy and show they truly care. However, COVID-19 has made gift shopping a little more difficult because of tighter spending budgets and/or late online shopping deliveries. Nevertheless, there is a creative solution. Instead of ordering items online and hoping for on-time arrival, people can choose to make "Do It Yourself" (DIY) gifts or can purchase neat items from AGHS student-owned businesses. Below are a few links for a variety of DIY sites and options:
DIY gifts that would be great for the family for friends of all ages would be chocolate covered pretzels, cookie mix in a jar, and glass-filled ornaments. The chocolate covered pretzels are quick and easy to make since there are only two/three ingredients: chocolate of choice to melt, pretzels to dip in the chocolate, and perhaps a topping such as sprinkles. Next, the delicious holiday treat can be placed in a little bag or decorated jar, and then it's all set to be wrapped and placed under the tree. 
Next is the cookie mix in a jar. This will require a 1-quart jar and the individual's favorite cookie ingredients. As for the layering, mix all the dry ingredients first, except the sugar and toppings such as M&M's. After mixing the dry ingredients together, pour it into the mason jar, and then on top of that layer, add in the topping of choice. Lastly, layer the sugar on top and seal the jar; to make it more festive, a ribbon could be added to the jar as a final touch.
The glass-filled ornament is another DIY gift that is relatively easy and can be made to the liking of any individual. This mini-project will require a fillable glass ornament and items to fill it up, such as colorful feathers, jingle bells, glitter, and other fillers that would make the ornament special. Some people have poured different color paints into the ornament and have swirled it around to make a beautiful marble look. 
However, if there isn't time to make a gift there are two AGHS seniors, Abby Sommer('21) and Natalie Hurtado('21) with businesses prepared and stocked to sell for this busy holiday season. Sommer began her Etsy business in the summer of 2019 due to inspiration from her father and ads that sparked her interest 
"Ironically the way that I decided to start a business was from a simple ad on Instagram that stated I could get 10 custom stickers made for a dollar," she began. "I ended up buying some and found myself unsure what to do with all of them. My dad had started an Esty business a few months prior, and after I [had] unsuccessfully found no jobs that summer, [I] was encouraged by him to start my own business instead."
On Sommer's online site she sells stickers that she designed that focus on the environment and nature's gifts. She uses her art to bring joy and make people smile by coming up with creative designs and slogans.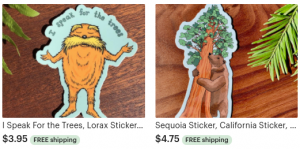 "I mainly like to focus the message of my art around nature and environmentalism, as I am most inspired by these themes. I also enjoy adding slogans or puns to my art to add some fun to the message I try to convey. Some of my stickers for example state things like "free hugs" for a tree, or "turnip the beet" for music lovers."
Just in time for the holiday season, Sommer released her newest sticker that many would enjoy. It is a small piece of art displaying a grizzly bear hugging a sequoia tree to recognize the beauty of nature and National Parks. Sommer prices her stickers, including this one, at an affordable price so people can buy high-quality, beautiful stickers at a price range they can afford.  
"My stickers range from $2.95 to 4.95. I try to keep them affordable for anyone to buy and are produced on high-quality vinyl which makes them waterproof, dishwasher safe, and UV resistant to fading," she stated.
In addition to checking out Sommer's sticker collection in search of a holiday gift don't forget to visit Natalie Hurtado's "Nat's Nik Naks". Hurtado started her own Etsy business in second grade when she was inspired by a homemade tassel garland on Pinterest and decided she could make her own. She made one for a friend but little did she know that it would be the start of over a nine-year business. 
"I remember seeing a Pom Pom/ tassel garland on Pinterest, and I said 'I can make that' so I did! My mom's friend wanted one so I made one for her and as my parents were going to my mom's friend this stranger asked if she could buy it [fr my parents. They said yes and [my parents] came home and told me what happened! After that, I began to sell my items!"
Hurtado makes her wall decor in a Bohemian style with many colors that bring her joy with hopes they will bring her customers joy as well. On her website, there are currently two holiday-themed garlands that would make a great gift for the family and friends. No need to worry about expensive shipping costs with Hurtado's products because shipping is free with nice packaging. 
"I don't have things over $30! And I always have free shipping!" exclaimed Hurtado. 
This holiday season may not be the same but there are quite a few options to choose from regarding gift-giving. In all, even with a pandemic, there are still quite a few ways to remain festive and to show loved ones how much they are truly valued and cared for.