Together Apart: The theme of 2020-2021's extraordinary yearbook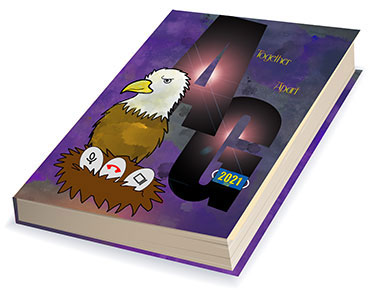 Erika Schiesl, Reporter, Opinion Department Editor
December 18, 2020
Under lockdown, school has changed in nearly every aspect. Little about the "high school experience" remains consistent with previous years, and many elements of school which motivate students and connect them with their peers have not been attainable. No freshmen orientation, no homecoming, no sports events. Without these usual highlights, some may wonder if a yearbook is worthwhile or even possible at all.
However, the 2020-2021 yearbook is still in the works thanks to yearbook teacher Mr. Bledsoe.
"The quality is still going to be good, if not better this year than it's ever been since we're taking more time with it," said Bledsoe.
With so many of the usual events cancelled, it's necessary to find ways to fill in the gaps.
Bledsoe explained, "I would've had twice as many pages done at this point. It's still going to be 396 pages like always, but because there aren't any school activities [or] sports yet I have to find something to fill about 150 to 200 pages."……
The lack of pages at this point may seem alarming, but Bledsoe is up for the new challenge in his ninth year of yearbook involvement.
"It's fun to be creative, I like to do better each year. I don't want to keep doing the same thing every time," Bledsoe stated.
Every school year is different in its own ways. Even though this year's deviation makes it considerably more complicated to pick apart, Bledsoe is confident in the substance of the yearbook and has a vision for the unique story it will tell.
"We can't make it a negative yearbook. We want to at least show that, 'Hey this had an effect on us.' So you open it up [and it's] black and white and… as you go farther and farther into your yearbook it gets more color," he explained.
"The theme this year is Together Apart, and you know, we're all together but we're apart because of COVID… and then on the cover, there's an eagle. And he's got the little Google things on the bottom, you know with a microphone and the headphones and stuff. They're the eggs and the nest and [the eagle is] kind of happy, but he's noticing that 'Hey, this world looks kind of weird right now.'"
Overall, Bledsoe believes there is one crucial part to each year's book.
"Our students reflect the community, so we have to be mindful of that. If you pick up our yearbook, it's going to look different from one on the East Coast so it has to be a reflection of everything that's going on around here. I like to tell a story with our yearbook and have a cohesive plan from beginning to end where you see it evolving, and it's fun to see how students grow."
Students may wonder how Bledsoe plans to tell a cohesive story of this school year and include the foundational parts of the book when images are not as easily accessible. 
"For clubs, I contacted the club advisors and asked them to send me pictures of their students," he explained. "[ASB has] been our main contact, they've been providing us with some pictures and things too because they always have their dress-up days and different things they do on Instagram."
As for school photos, they were actually intended to happen this week.
"We were going to have school pictures [December 16-18]. I had written up a plan where we were going to drive through the parking lot with appointments. [Students] were going to get out of their car and Ray Ambler, Spike Thiesmeyer, and I were going to be in three different rows in the parking lot. Then the lockdown came, so that shut down all those plans. That's the plan for… sometime later in the [school] year."
Any students curious about more information regarding the yearbook or looking to purchase it can visit the yearbook website. As for the production and distribution timeline, that's likely the most different aspect of this yearbook.
"In past years our final deadline for the yearbook was March. I got [Jostens] to extend it, so our deadline is going to be in June… and instead of handing it out in May this year, it's going to be July. And the reason for that is we want to fill it up with all the things that happen this year. By doing it in June we're going to get graduation in the yearbook. That's never happened before and if there are things like prom or senior activities we can get those in the yearbook for the first time ever."
Regarding production, there is a lot of pressure to meet those deadlines.
"It's a 90,000 dollar book. I have to make sure we sell enough books to pay for it and I pay that bill no matter what… it's scary throughout the year," Bledsoe admitted. 
As of December 8, 30% of the yearbooks had been sold.
"Last year we sold out, hopefully people will get on it and we'll sell out again."
The actual printing process of the yearbook changed last year due to COVID. However, it is a change that Bledsoe welcomes.
"I think for over 20 years our printing plant has been located in Visalia. Last year because of COVID they shut [it] down. Now everything is printed in Tennessee. One thing that's cool is that by being printed in Tennessee the quality went up… it's amazing the way it was printed, the colors inside are so much better."
In addition to changes presented by the pandemic, there are other new aspects to the yearbook.
" I have a whole list of all the terms that we're using right now, like pandemic and COVID, and 'Come on, man!' by Biden. We had the presidential election, so we did a whole page on that. I've sectioned it with how seniors are dealing with their senior year and how it's different," he said.
Bledsoe is determined to catalog this year in a way that is meaningful to this yearbook alone, not just as the latest add-on to the yearly routine.
" I always think about… the person 20 years from now looking at the yearbook. I want to show how last year ended and… how we got here. That's the way we're starting the yearbook, by telling a story. I'm doing it all chronologically… and by the time we get to the last page you have learned the entire story about the year."
The Eagle Times would like to thank Mr. Bledsoe as well as the yearbook class for continuing their tradition of excellence even in the most difficult of times.