2020: A Year in Review
On January 1st, 2021, the world breathed a collective sigh of relief as the year 2020 came to an eagerly-anticipated conclusion. With last year now nothing more than an unfortunate memory, many people are looking forward to 2021 with strong – albeit cautious – optimism. If you were lucky enough to have lived under a rock for the past 12 months, or if your perception of linear time has been shattered by innumerable days spent in quarantine, then this crash course article on the history of 2020 may be effective in jogging your memory; or, at the very least, might provide you a little closure.
The year began with a literal bang in the early morning hours of January 3rd, when a United States drone strike, ordered by President Trump, targeted and killed Iranian major general Qasem Soleimani. Iran's military retaliated to Soleimani's death by launching several ballistic missiles at Iraqi air force bases housing American personnel. No casualties were reported, though the quickly-escalating tensions between the two nations briefly sparked fears, specifically among draft-eligible men in the United States, of an imminent World War III. To serve as a backdrop to this madness were the Australian bushfires; though they technically began in late 2019, the fires continued their trail of destruction into February of 2020, creating a crisis which ultimately scorched over 46 million acres of land, destroyed more than 5,900 buildings, and killed at least 34 people and three billion animals. The bedlam in January was terrible and chaotic enough to leave many with the false assumption that the year could only get better. As we know now, it didn't.
It was the month of March that sealed 2020's fate as the worst year since 2019. The COVID-19 pandemic, which originated in China in December 2019, eventually broke free of the nation's confines and made its way across the world. As new cases of COVID-19 were discovered at an alarming rate in North America and Europe, governments imposed emergency lockdown measures in order to contain the spread of the virus. The government-enforced quarantine that followed, as well as the widespread panic and toilet paper shortages it spurred, was only expected to last – at most – a few weeks. But weeks gradually melted into months, and months have nearly become an entire year, as cases continued to climb (or, on many occasions, skyrocket) around the world. As of February 2021, the COVID-19 pandemic in the United States has resulted in the closure of thousands of small businesses and the deaths of over 400,000 Americans.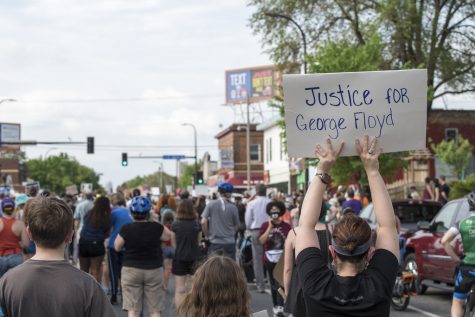 The murder of George Floyd at the hands of police officers on May 25th spurred civil unrest across the United States as hundreds of thousands of people around the country took to the streets to protest. It wouldn't take long for the reverberations of Floyd's death to travel across the world; rallies in solidarity with the "Black Lives Matter" protests were organized in cities across the globe. The protests changed not only the public's perception of police brutality, but also our perception of contemporary American society. The protestors' demands led to changes ranging from significant to insignificant being made across the country to police departments, media outlets, monuments, and the entertainment industry.
The presidential election of 2020 was a suitable conclusion to the chaos that defined the year. On the evening of November 4th, millions of Americans sat goggle-eyed, glued to their television screens, eagerly awaiting the results of who would become the next president of the United States. As a result of setbacks caused by the COVID-19 pandemic, the outcome of the election would not be revealed until, three days later, it was confirmed by the Electoral College that Joe Biden had won the presidential race. Biden's victory was met with a severe reaction from Trump and other members of the Republican party as accusations of voter fraud and election tampering began to be raised. This growing agitation would eventually boil over on January 6th, in which a mob of Trump supporters stormed the United States Capitol in a failed attempt to overturn Trump's loss. 
OTHER IMPORTANT EVENTS OF 2020:
8 January: Prince Harry and Meghan Markle announce their departure from the royal family.
26 January: Kobe Bryant, daughter Gianna, and seven others are killed in a Los Angeles helicopter crash.
6 February  President Trump is acquitted of impeachment charges by the Senate.
2 July: Epstein associate Ghislaine Maxwell is arrested on sex trafficking charges.
4 August: A warehouse explosion in Beirut, Lebanon kills over two hundred people, injures thousands, and displaces over 300,000 people.
August-September: Wildfires rage along the West Coast, displacing thousands of Americans from their homes.
18 September: Supreme Court Justice Ruth Bader Ginsburg passes away at age 87.