Favorite art pieces of 2020, their stories
Everyone expresses themselves in one way or another, whether it be through activism, writing, fashion, singing, or simply talking with a friend. For artists, this innate expression seems to come from putting pen, paintbrush, pencil, charcoal, or marker to paper and letting the hand tell the story of the mind. The artists of AGHS have plenty of stories to share, both simple and complex, and their pieces prove the power images hold in storytelling. Below are a few of AGHS students' favorite artworks of 2020 along with descriptions of the inspiration behind each piece as well as the story behind specific details in the pieces. Thank you to all of these talented artists for your submissions and for sharing a bit of yourself with us!
"After working to better myself and feeling alone at times I started to idolize the men and women of the Wild West, and modern-day cowboys. Though a short period of our country's history, the Wild West is a long-lasting symbol of self-reliance. I admire the independence of a cowboy "out on the range", only himself, his horse, and the desert landscape to comfort him. My grandpa is a Mexican immigrant who has grown greatly since he first came to this country. I don't know much about the years between when he crossed the border as a teen and when he became a grandfather, but I know he worked to be where he is today and I admire his perseverance and self-reliance. I hope I can have the same strength and apply it to aspects of my own life. My grandpa lived in the valley of California, and seeing him in his black hat made me realize I look up to him for the same reason I idolize cowboys. I took his picture and used those images to represent hard work and appreciation for the opportunity to grow. For cowboys that opportunity was the new western land, for my grandpa, it was a new country, and for me, and many teenagers, it can be a new group of friends, a new hobby, or a class they're passionate about.
I included pink in the face for my grandpa—pink means love, human emotion, and understanding to me. I painted purple and yellow hills and incorporated those colors in the details of the portrait, to represent how the land which provides our opportunities for growth leaves its mark on us."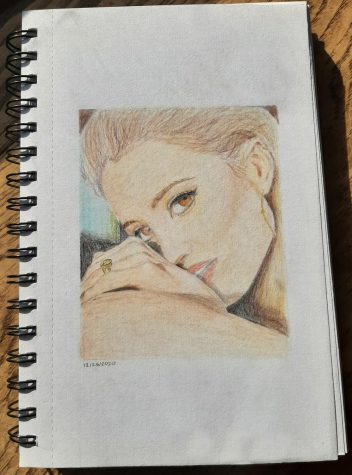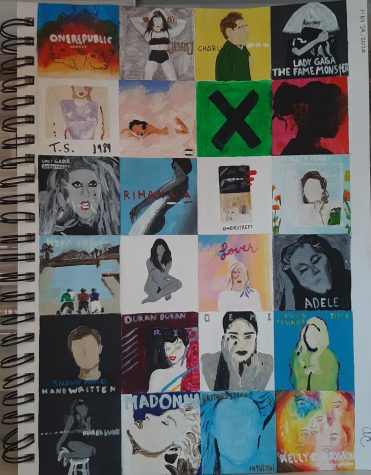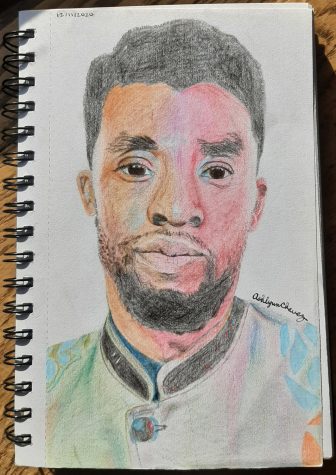 Dianna Agron, Painting of music albums, and Chadwick Boseman by Ashlynn Chavez
"For the portrait of Chadwick I made it as somewhat of a tribute to him and his work after his passing. I got inspired to draw Diana because I am a really huge Glee fan, and she's one of the main characters on that show. For the paintings of albums, I put together a bunch of artists I like and chose my favorite album from each of them. Normally I use pencils because they're better for blending, but I wanted to try something different and new last summer so I chose to paint a few things like the albums."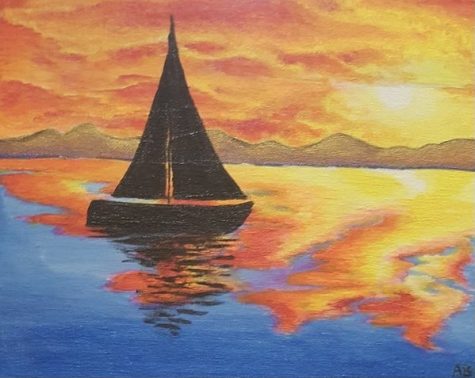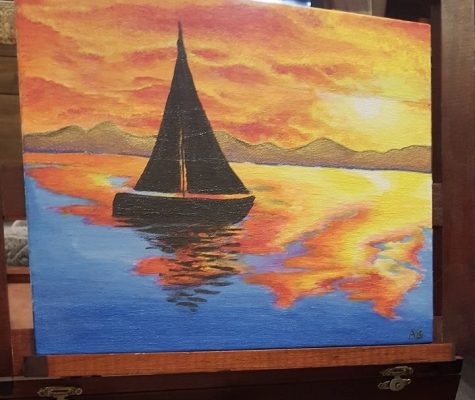 Artwork by Amy Becker
"This is a painting of a sailboat that I made for my grandpa's birthday.  My grandpa sailed a lot when he was a younger adult and he always tells me stories about sailing trips he would do with friends including sailing to Hawaii twice. My Grandpa is a double amputee. After the Vietnam war, he lost both legs, so I find it really inspiring that even after the loss of his legs he still went out sailing on big trips and doing what makes him happy.
I chose acrylic paint because it is the medium I have practiced with the most and I wanted to get some really bright and vibrant colors for the sunset!"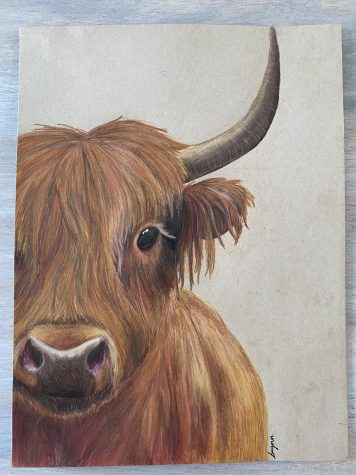 Artwork by Brynn Naber
"I drew this cow because I've been really into drawing animals lately and I saw this cow and thought it was a really pretty cow, so I drew it. The medium I used was colored pencils, and I like using them because you can blend with them and get really fine details and they are fun to use in general."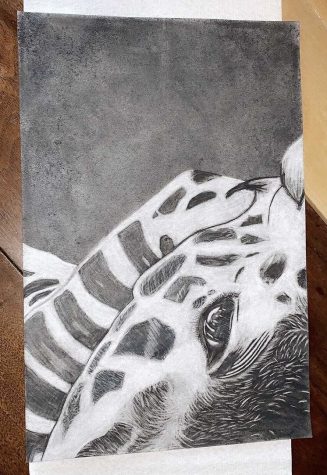 Artwork by Kathleen Hutchens
"The inspiration behind this piece was an actual image of the animal itself that I picked out in my drawing class last year. Our assignment was to create a charcoal piece of a real-life animal – no cartoons, and I saw the eye specifically, and was inspired to pick this image."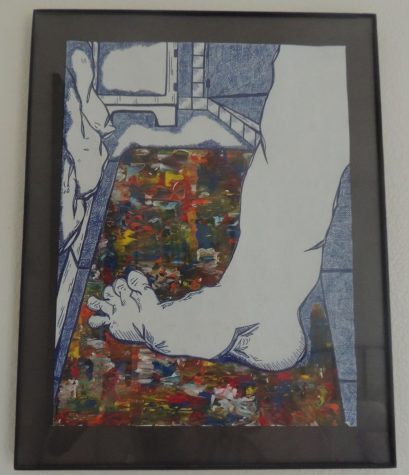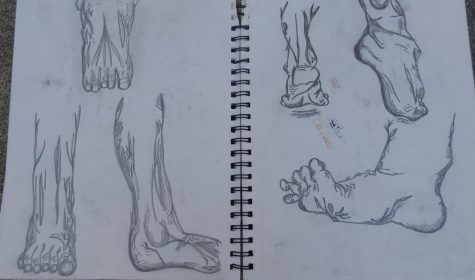 "Foot in the Bathroom" by Arabella Edler 
"I intentionally created this piece to correlate with my studio art portfolio last year, which essentially consists of several art pieces that demonstrate artistic skill and thought process when answering a self-given inquiry question. I answered the question of how the image of the human body implements my emotions through artistic mediums and colors. I naturally gave this piece the lackluster title of "Foot in the Bathroom," with an unrevealed frame of mind. Mood is an internal and rather subjective emotional state, and the bathroom is a natural isolation zone for me, where I find myself preoccupied with my infinitesimal thoughts, and it ironically happened to be the location that I found inspiration for this piece. When creating this art, I implemented as many saturated acrylic paint colors as my plastic palette could fit to depict every emotion I hoped to represent. To elaborate, green represents growth and healing, whereas red is the color of blood, roses, and hot cheetos –  it's a very passionate color. The blue pen, however, was a natural comfort material for me, and it assembled the dominant feeling of sadness and isolation I hoped to portray. The single foot implements a feeling of remoteness to correlate with the serenity of the blue in the mediocre bathroom as well as the pain in the clenched foot. I really enjoyed fabricating this piece and I hope you enjoy it as well."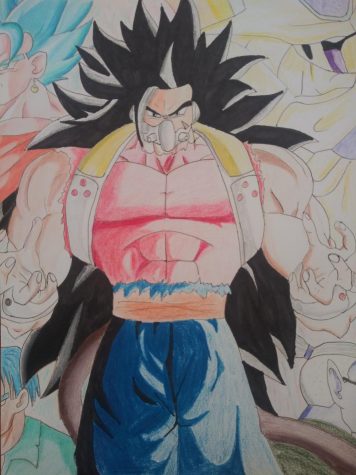 "Dragón Ball Heroes" by Eugenio Nicolas Garcia 
"What inspired me to make this piece of art was the fact that I like anime. I have really liked it since I was a child. I chose colors I liked and the materials are the same I use all the time; a pen, pencil, and markers."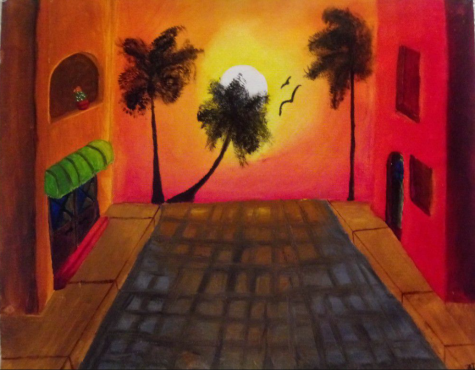 "Red Summer Vibes" by Itzela Rodriguez 
"This is my latest artwork created mid-quarantine last year. This painting was created using dark to light tones of red oil paints in order to create a very warm temperature/atmosphere. The darkest colors and tones of red were used to reflect the angle of the sun, which, from what you can see is in the center, meaning it's not a sunrise, but a sunset that is occurring. The significance behind my artwork is my love for the beach, presented through the palms overlooking the shore, but only the moment when the sun sets is forever engraved in my mind, and therefore, I thought I might present it through this artwork, called Red Summer Vibes."
The Eagle Times would once again like to thank the artists of AGHS for their submissions and explanations.  Keep up the great work!
Leave a Comment
About the Contributor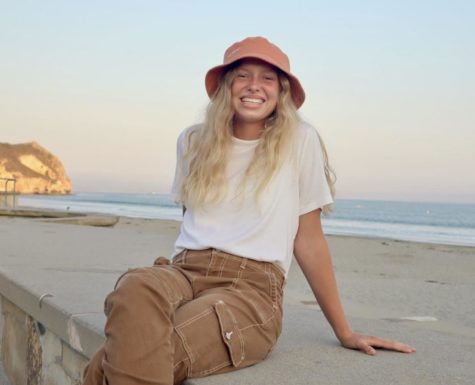 Olivia Theaker, Co-Editor-in-Chief
Olivia Theaker is a Senior and she's stoked to be on the Eagle times Staff for a second year. She enjoys listening to music, spending time outside, creating...