Addiction Recovery is a Possibility for All
On September 26th, 2022 Lucia Mar Unified School District sent out an email to all in the district regarding "rainbow pills" that have become a significant cause for concern in schools.  The pills are laced with a lethal amount of fentanyl and are brightly colored, taking on the appearance of candy.  
The drug epidemic has affected Lucia Mar for years, but as the severity increases, more young lives become endangered county and state-wide.  In 2018, there were 54 cases of opioid-related deaths for youths aged 10-19, whereas in 2020,  247 opioid-related deaths occurred for the same age group, marking a 409% increase in 2 years, with Fentanyl driving the growth. With the opioid crisis mainly affecting the teen demographic, high school staff and teachers are prepared with resources and strategies to help.  
One resource is Naloxone (commonly referred to as Narcan), a medication that rapidly reverses an opioid overdose and saves lives. Despite Narcan being a massive help in preventing lethal overdose, Lucia Mar is the first school district in the country to have a supply of it.  Narcan training was voluntary and available to all staff within the counseling department, with training offered through google classroom.
Andrea Lee, assistant principal of Arroyo Grande High School went through training on how to administer Narcan in case of a crisis situation on campus.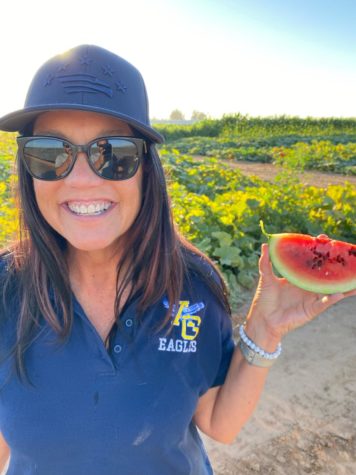 "A lot of us know we are first responders…when something happens and the radio goes off, we go running," Lee said.
Aside from school staff being able to handle a crisis situation, staff have an established system of consequences to respond to a drug situation on campus.  Depending on the individual's situation, consequences can range from a short suspension to expulsion from school.  Above all, student safety and well-being are a top priority for all staff.  Therefore, consequences for drug-related not only deter students from abusing drugs in the future, but take into account any further support the student may need.
"There's always three sides to everything, you can go the school discipline route, law enforcement has the ability to step in if they feel necessary, and we also have that mental health counseling piece as well," Lee said.
Having multiple ways to handle a drug situation on campus not only makes the environment safer for all students and staff, but ensures that the individual receives appropriate care, whether it be attending additional counseling, or being treated for addiction in an inpatient facility with a full care team.
"We start with their school counselor, they might be referred then to Mrs. Martinez, the school mental health counseling head who would find a therapist.  There are also other options where we refer students to SLO drug and alcohol…they do assessments there, and they determine if somebody needs further intensive counseling, either inpatient or outpatient," Lee said.
Beyond school resources, students struggling with addiction can benefit from professional counseling.  Thomas Buckley, executive director of Aspire Counseling Services in San Luis Obispo helps adolescents overcome addiction and feel hopeful about the future.  Buckley connects deeply with clients, as he grew up exposed to the consequences of addiction, and has seen how it directly relates to mental health.
"I was born to a father that had addiction issues and I had an older brother that had mental health issues, in fifth grade my father died from his addiction, and in sixth grade, my brother died from his mental health issues, he died by suicide," Buckley said.
Buckley's personal experience with addiction and mental illness is what pushed him to pursue a career in counseling and helping others overcome addiction and pursue a drug-free future.
"Tons of people write books about addiction and recovery, but not a lot of people do it through the lens of empathy and understanding and through personal understanding… it's all very statistical, but this personally affects each and every one of us," Buckley said.
Many resources that promote addiction recovery stress the frightening statistics of how many lives are lost due to addiction.  Statistics are effective in demonstrating the severity of addiction in a large population, however, statistics don't show that addiction affects everyone, directly and indirectly.  
Jacob Fox, a former client of Aspire Counseling Services, now works as a staff member while majoring in psychology at Cuesta College.  Fox's experience with overcoming addiction and mental health issues as a teen revealed the importance of resources for addiction.  Fox experienced initial fear with beginning addiction recovery, but his experience at Aspire Counseling Service led him to find a supportive "family" within the staff at Aspire Counseling Services.  
"I was terrified and I was sitting there like, 'what the hell am I supposed to be doing here?' and after a little explanation and hearing everyone else talk, I was still terrified, I didn't know what I should say, and then slowly after the course of a couple of weeks I warmed up pretty quick, and it becomes like family after a while, I was with those same four people for months," Fox said.
By providing resources for addiction recovery, students who struggle with addiction and are at high risk for overdose can receive help without the obstacle of asking someone who may react negatively to the topic.  Staff members of Lucia Mar are prepared with life-saving medication, and a system of consequences to keep students safe, bolstering the community with hope and wellness in face of a rise in lethal situations due to opioid overdose and addiction.  
"You can go through some of the worst things possible, and you have to choose if you're going to let it define you and mess you up, or you can take it and learn from it, and be able to understand and sympathize with anything.  You will be able to understand people's struggles even if you have no idea what it's personally like and that situation, and just with that be more qualified than most other people to help," Fox said.
Recovering from addiction may feel impossible, but support is available. There are people who understand how bad addiction feels and can help create a bright future, both within and outside the school community.
Leave a Comment
About the Contributor
Mia Hinds, Reporter
Mia Hinds is a senior at AG High School, and is in her second and final year with the Eagle Times.  She has a dog named Miko, who is a pitbull and husky...