Club Beat: The Sequel
Feminist Club, Grub Club, Beach Cleanup Club, Environmental Club, Baking Club, Guitar Club
FEMINIST CLUB:
The Feminist Club is a longstanding and sizable club on Arroyo Grande High School's campus. It is currently led by Sandy Peterson in Mrs. Carder's room (507) on Wednesdays at lunch every week. 
"We mostly spend our meetings going over certain goal initiatives," Peterson said. 
The Feminist club goes beyond simply talking about or discussing feminism but instead works to actually influence the goals of the movement. 
"We're more about action," Peterson said. 
Last semester the project that the Feminist Club took on was to raise money for and distribute high-quality feminine hygiene products for the girl's bathroom at AGHS. Currently, under the Menstrual Equity for All Act of 2021, signed by Gavin Newsom, public schools must provide free products for all women's restrooms and one male restroom. However, the quality of these products is subject of concern. 
"It allows schools to do the bare minimum by putting stuff that's really bad quality and sparsely refilled," Peterson said. "It's not up to the actual standard that it's meant to be." 
The Feminist Club sought to buy the products necessary for the facilities on campus and donate them to the custodial staff. Zoe Lodge assisted in getting the Feminist Club in contact with the custodial staff. The club earned the money necessary through a fundraiser back in May of 2022. 
"We spent most of the spring semester just trying to jump through hoops to figure out how to distribute feminine hygiene products to the bathroom. It's actually pretty difficult to really do stuff with your club fundraised money," Peterson said. 
The limits of fundraising are an interesting issue. On one hand, there is the idea that clubs at AGHS should only benefit AGHS with their money. Additionally, opening the door to foreign spending may make work more complicated for those managing the AGHS treasury. 
"I understand where they're coming from, but I also think if we're raising money specifically for a cause, I feel like we should be able to do that," Peterson said. "It's kind of hard because once you've raised money, and you have extra, you can't really put it to a charitable cause. You have to figure out some way to spend it that will benefit your club."
The future of the Feminist Club is currently undecided. Since it is the beginning of a new semester, the Feminist Club will soon come together to decide what their next big project will be. After their fundraiser, the club is still sitting on quite an amount of cash to fund an ambitious plan. The Feminist Club all comes together as a group to see what students want to see improved, but Ms. Carder, the club's adviser, also assists. 
"[Feminist Club is mostly student-led but [Carder] definitely does help out and give her ideas. Carder is a feminist and very supportive of the club, she definitely contributes ideas. We're not just using her classroom," Peterson said. 
The Feminist Club is a strong community with many contributions and dedicated members, both teachers and students alike. However, the Feminist Club is still always willing to take in new members.  
"If on Wednesdays at lunch you don't have anything to do and you want to be a part of the club it looks great on college apps [because] you're working towards initiative and bettering your community and if you just care about bettering our school and fighting for equality and equity, then I would recommend joining," Peterson said. 
GRUB CLUB:
Grub Club is a brand-spankin' new club made just this year! The club President is none other than Fayth Holley. 
"Grub Club was inspired by the idea of promoting body positivity," Holley said. 
Holley herself was inspired to create this club due to a personal prior struggle with food and body image. Her struggles allowed her to empathize with fellow high schoolers who might be going through similar troubles. 
"I think that it's really common, and it's a lot more common than what is perceived," Holley said. 
Grub Club is meant to be a safe space for any and all who wish to communicate about various struggles that are becoming evermore present in our society and in students at AGHS. Grub Club promotes unity and helps develop the understanding that no one has to go through their issues alone, and there are people at AGHS who are willing to help each other. 
"The club was really important to me because its the first step in what I want to do with my life because I plan on being a pediatric dietitian specializing in eating disorders," Holley said. 
Grub Club is one of many special clubs where those in charge are truly dedicated and devoted to their goals. Holley's philosophy she intends to promote throughout her career journey is that it is okay to enjoy food, and everyone's body is unique and built completely differently.
"My healthy could look completely different than another person's healthy," Holley said. 
Grub Club has been out of session recently but the new semester is jumpstarting the club once again and now the club will be up and running every other Tuesday in Ms. Gasenica's room (409). 
"I'm really excited about Grub Club and I have a lot of hope for it because I know what it feels like to be uncomfortable in your own body and I hope that it is a place where people can feel really supported and fine that confidence that everyone should be able to have," Holley said. 
Grub Club, as well as being a club with an important message to spread, is also simply a fun place to eat lunch with friends and feel comfortable doing it. 
BEACH CLEANUP CLUB:
The Beach Cleanup Club is an important club for the environment as well as for students in need of community service hours. The Beach Cleanup Club this year has transitioned into the capable hands of club President Kian Rafian, and the club meets in Boos' room (607) on Fridays at lunch before their cleanups.
"The three girls running [the club] were like, really passionate so I didn't want to let it drop, I want to keep it going," Rafian said. "I have big shoes to fill." 
Rafian undoubtedly shows the effort necessary to fill those shoes. Rafian takes it upon himself to personally take home all the trash collected, sort out the recyclables, then drive to Oceano to properly recycle them. Rafian also uses this process to have some fun.
"I'm already sorting it out so I separate certain types of beer bottles like Corona and Bud Light and see what's the most popular beer of what we litter and I then I'll put it on the Google slides," Rafian says. 
Each meeting is a short presentation, like the beer bottle reports, followed by information about when and where the next cleanup will take place. 
"[Beach cleanups] are normally [at] Pirate's Cove just because there's so many parties and people just chuck stuff," Rafian said. 
However, recently beaches like Pismo are not as clean as they usually are with the storms that have been rolling in and bringing lots of trash and debris. When it comes to trash that storms bring in, much of it is microplastics. Microplastics are hard for the club to clean, and all the broken plastic is too tiny to handle and collect. 
"Before I took over, [beach cleanups] used to be once a month, now we're doing more like one every three weeks or every other week. They're on Sundays, normally 9:30 in the morning and they go on for two hours," Rafian said. 
Normally everyone meets up, splits off into several groups of around three people, and each group goes and collects trash. 
"For most the people who come, part of it is about the environment but mostly it's community service hours and just hanging out with friends to be honest," Rafian said. 
Rafian further asserts that as long as it gets people to come there is nothing wrong with wanting to hang out with friends or get community service hours. In fact, there is a strong community and social environment that has developed within the Beach Cleanup community. 
"Boos is really cool because she comes to all the cleanups and some people bring their dogs," Rafian said. "And because we would get kind of sweaty hiking around we'd go for a swim after." 
With the money Rafian collects from recycling, he buys cookies and other various treats for their meetings. 
"[Beach Cleanup] is not something you don't want to go do you know? It's nice that you can do a good thing and also have fun and be with your friends, that's a win-win," Rafian said.
ENVIRONMENTAL CLUB:
The Environmental Club shares a lot of similarities with the Beach Cleanup Club. Both are environmentally focused, contribute community service hours, and are both advised by Katie Boos. The Environmental Club is led by club President Talia Conn every Friday at lunch. The Environmental Club also does gardening on Tuesdays and Thursdays after school. 
"We've been gardening mostly in the seven hundreds area by the library and we've been working on a flower bed and breaking soil and planting native plants," Conn said.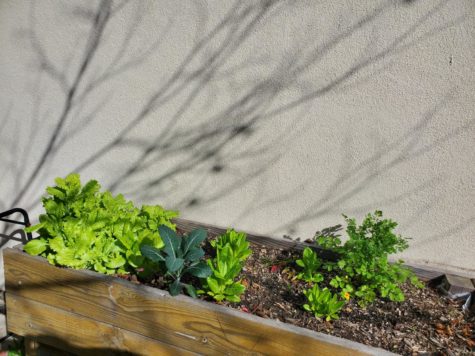 The Environmental Club is possibly planning on working with floral design next year to help with planting although the club plants vegetables and other plants other than flowers. The end goal with the plants is still unknown. It will take quite a while before the plants will be ready to harvest anyway. There is talk of a food drive or expanding the area they are growing into other classes.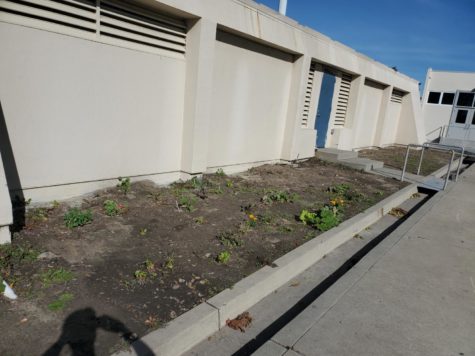 "I created this club when I was a junior because our school didn't recycle, which angered me, so I started the recycling club," Conn said. 
The Recycling Club had around 25 people in it last year, and this year Conn rebranded the club into the Environmental Club. 
"I changed into the Environmental Club so we could expand beyond recycling and go into things like composting," Conn said.
The Environmental Club has composting bins, and recycling, and is also looking into getting air dryers instead of paper towels in the bathrooms. The Environmental Club has 100 people in the Google Classroom and gets around 25 people per meeting consistently. 
"We have two media managers Ellie and Natasha Benitez, and then we have our Secretary Ella Parish. We have Ian [Beard] who's our treasurer and then we have Journey [Simunich] and Nayeli [Schmidt] are also Vice Presidents," Conn said. 
EXCLUSIVE KATIE BOOS INTERVIEW:
Katie Boos, the current teacher for AP Environmental (in room 707), is the advisor for both the Beach Cleanup club as well as the Environmental Club. 
"Beach Cleanup Club started first, and it started before I started being the advisor. It was the year of the partial shut down that I started," Boos said.
For Boos, having the Beach Cleanup Club during the COVID shutdown was a great opportunity. 
"Everyone was just so stuck in their little cubicles at home. We still did cleanups every month so it was a really nice way to still see people and socialize and get to know students," Boos said. "For me it was rewarding, I think for the students too, to have that human connection,"
The Beach Cleanup Club has done a group cleanup every month since, and just last week Boos reports the club cleaned up 39 pounds of trash in just two hours. Due to recent storms, the club has been picking up to tempo to do a group cleanup bimonthly. 
When it comes to the Environmental Club, Boos expresses the struggle of getting the recycling program started on campus.
"We still don't have proper recycling happening on campus if its not a clear plastic bag, and its still arguable if clear plastic bags are being recycled because we're hearing different things," Boos said. 
On the gardening side of things, the Environmental Club is seeing a lot more success. The Architecture class has been working for the Environmental Club to design garden beds and more seating areas for everyone. 
Boos has always had a passion for anything and everything environmental. Her undergraduate degree was in ecology and sustainability, and the content has always been interesting and engaging for her. 
"The content of teaching is cool but what is more important to me is the relationships with students and trying to create better humans," Boos said. "So I think both clubs are really great ways to foster better people on Earth." 
GUITAR CLUB:
Guitar Club is a title that appears to insinuate that people play guitar in that club. That is exactly what the Guitar Club does. They play guitar. It is led by Club President Sebastian Barbir in Tuller's room (809) every Tuesday.
Barbir has the qualifications to be running this club, he's been playing guitar since he was six years old. Barbir has his own electric guitar that he brings with him to meetings and Tuller keeps his own acoustic guitar in his classroom.
"[The acoustic guitar] needs to be restrung but it still works. If we grow we'll probably starting bringing more stuff," Barbir said. 
The Guitar Club is quite small, with only four or five members currently.
"We don't really do anything, like, the reason the club was started was to teach people how to play guitar but no one's really come in for that reason yet," Barbir said. 
When the small group does meet, they enjoy learning new songs together and 'jamming out.' The club is happy to take in any and all who have an interest in the guitar, who already know the guitar, or those who just want to come and hang out. 
BAKING CLUB:
The Baking Club meets every other week on Tuesday. Anya Klopfer is the club president.
"This semester we're going to try to do like a bake sale and raise money for our club," Klopfer said. 
At each meeting, everyone in the club brings in various baked goods for everyone to try, though it is not an obligation. 
"One time I made a pie," Klopfer said. 
Klopfer has also made many sorts of cookies, like cookies with frosting on them.
"We bring in our food and then we say like, what it is like how you made it and like, probably something you learned," Klopfer said. 
According to Klopfer, when more people show up there tend to be fewer baked goods for people to try. Currently, the club is small, with only around ten members. When it comes to the Baking Club making food for the school Klopfer says, "undecided."
Leave a Comment
About the Contributor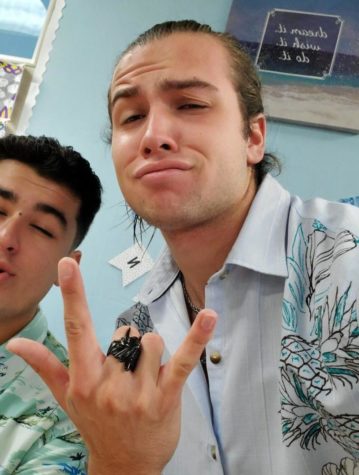 Ethan Weller, Reporter
Ethan Weller is a Senior and first-year newspaper student. He enjoys drawing, creative writing, and music. He is also an avid dog lover and quite regrettably...