Last year, students found the quality of drinking water on campus unsatisfactory. Between water filters on red and a lack of hydration stations, it was difficult for students to stay hydrated. Inspired by student concern, Scarlett Salter ('25), president of the new H2O club, was quick to take action on behalf of students and athletes to better hydration standards.
"I'm constantly refilling my water bottles on campus, and last year, the math hall water was at a red filter the entire time," Salter said. "There was really gross water, and not a lot of it available. I know that hydration is important, especially for students and athletes."
Maintaining the water quality is not an easy feat. Jay Delory, the AGHS custodian, notes that hydration stations cost around five to six thousand dollars. In addition, the process for changing the filters is lengthy.
"Whenever the filter light drops into the red, I submit a work order in the system for maintenance to come out and replace the filter," Delory said.
While the work order is submitted every six months, other unrelated work orders may delay it.
Fortunately for AGHS students, H2O Club President Salter and Vice President Ella Snyder ('25) are determined to improve the hydration on campus. 
"I'm a lover of water, I'm a water enthusiast," Snyder said. "I mean, you need it to survive."
Not only are Salter and Snyder aware of this issue, but they are also prepared to take on leadership roles.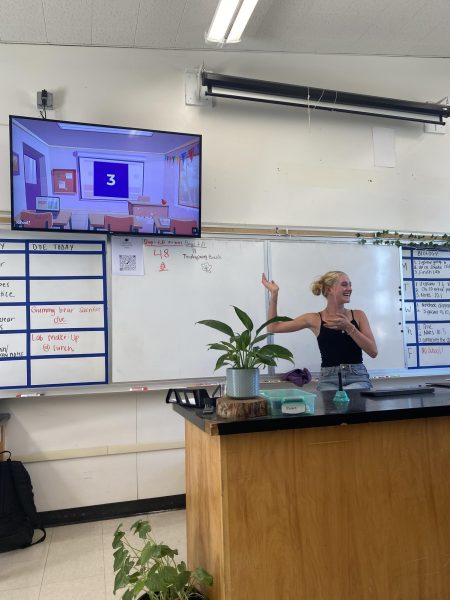 "I like to take action, and I'm a very organized person," Salter said. "I've kind of always drifted more towards leadership roles."
The dynamic duo has experience in team sports (such as AGHS Varsity Tennis) which gives them an edge in teamwork.
"Leadership means paving the path for everyone else who is going to follow in my footsteps and just being a good influence to everyone around me," Snyder said. "Being a leader means being confident in yourself and [influencing others to] be the best versions of themselves."
The goals of the H2O club are to provide a space for inclusivity and to promote better, cleaner drinking water for students to have easier access to.
"A big part of it is including everybody and making sure everybody feels welcome and [that] they have a say," Salter said. "I want the people in my club to also be passionate about what's happening."
The H2O club already hosted meetings to promote their club and begin their journey.
"We've done a fun water testing meeting where we tried different waters around campus and from home and filtered water," Salter said. She also has plans for LTAs and merchandise like stickers or jackets.
The club's current priority is to fundraise money for their cause. Delory makes note of the failed efforts of previous clubs to add another hydration station. Luckily for Salter, she has a game plan.
"Our next step is gonna be to start fundraising money," Salter said. "We'll probably start [by] putting up flyers around campus just about the H2O club and the benefits and consequences of [being] hydrated or dehydrated."
Salter also saw success in her club's Instagram account (@agh2oclub) and the club meetings.
"We probably have at least 20 [people] every single meeting but sometimes more," Snyder said.
AGHS Staff are also in support of the H2O club's goals.
"I don't have any problem with better quality water all over campus," Delory said. "It's better for everyone."
Even though they're only high school students, Salter and Snyder tackle a big issue on campus. With hard work and consistency, their work will benefit many students on campus now and in the future.
"I just want to make sure that everyone is safe and has the best access to what I think is [anyone's] right as a person: to have good, clean drinking water," Snyder said.