Club Beats: The Grand Finale
Safe Space
The Safe Space Club is the newest club on Arroyo Grande High School's campus. It is led by Club President Alexis Wyzlic and is advised by Mr. Traylor in room 706 at lunch. 
"Mr. Traylor actually came to me about [the club], saying that he had students that didn't really feel welcome at our school," Wyzlic said. 
Traylor's concern developed as he saw more and more students who sit alone at lunch all across campus. 
"So we decided that we would start this [club] to create a safe space. We don't do a whole bunch of community service stuff right now but we're working into that," Wyzlic said. 
As it currently stands, the club is simply a place where anyone is welcome to hang out. 
"It's nothing huge to the community but it is something good in our school," Wyzlic said. 
The Safe Space Club possesses much potential to become a much more impactful facet of the community, as the club is still only in its infancy.
"It's mostly Freshmen and Sophomores right now. We have 20 students that just hang out," Wyzlic said. 
While most clubs face the issue of their senior club president leaving the club and moving onto college, Wyzlic still has two more years to develop the club and learn how to operate the environment effectively. If her members stay committed as well, the Safe Space Club will have quite the force to influence the school's climate no matter how small the club appears currently. 
"I feel we have had certain students come in and want to know about it, I feel like we are getting our name out," Wyzlic said. "That is our biggest goal right now, [later] we'll set bigger goals," 
Wyzlic plans on collaborating with Beach Cleanup Club and the Baking Club to achieve their current goals. When it comes to other goals, like addressing Traylor's initial concerns, the club has a policy of waiting patiently.
"We don't want to be too pushy with anything because some people could have society anxiety," Wyzlic said. 
The reason Wyzlic is the representative of the club is because Wyzlic was one of the more social students in Traylor's class and Traylor knew that approaching her about the club would not be an issue. 
"[Being Club President] was stressful at first. I was really nervous about all of it and I'm still getting the hang of it, organizing and all of that, but my friends are helping me out a lot," Wyzlic said. 
Wyzlic has to balance being a Club President and being a varsity player on the Arroyo Grande soccer team. Wyzlic also participates in other clubs like the beach cleanup club and environmental club. 
Give Back 250
Give Back 250 Club works much differently from typical clubs on Arroyo Grande High School's campus. 
"The way 250 works is kids typically turn in their community service hours for graduation but then anything above 20 hours, they start submitting them to me," Club Advisor Mr. Hurtado said.
The 250 Club used to have a traditional format where members would come together to meet and discuss their community service ventures but members were only after information on community service opportunities which did not necessitate any meetings. 
"Now we have a website, a place for kids to see things for community service, so we don't have to meet as a club," Hurtado said. 
Some students continue submitting their hours as they had for their first 20 hours and then others turn in all their hours at once and then Mr. Hurtado verifies those hours. 
"Our first year we had one kid, then the next year another one kid and then 6 the next year," Hurtado said. 
The expansion continued to seven, 14, then 16, and the number is ever-growing. 
"We promote [250 Club] many times at Senior Meetings as well as putting things into the bulletin regularly, making sure people understand what it's all about and when the deadlines are," Hurtado said. 
The AVID program also pushes information about the Give Back 250 program. Mrs. Varvel, one of the AVID teachers, was the previous advisor of the Club before Mr. Hurtado took over. 
"Some of the projects that the kids have done, working with a lot of kids with special needs just touches my heart," Hurtado said. 
Hurtado recalls this year one of the students tackling the 250 community service hours goal has been working with a student at Paso Robles who has a terminal disease that gives the student only a few years left to live. 
"She's trying to go ahead and do as much as she can in those three or four years that he has left to live. So the projects that the kids do touch your heart," Hurtado said. 
Some students do many smaller projects instead but still have just as large of an impact, touching Hurtado's heart all the same. 
"I think kids are realizing how simple it is. If you start doing it, it's not as hard to get to 250, you realize," Hurtado said. 
There are many different places that students can go to to get started on their 250 journey but one of the best places to start is by talking to a school counselor. 
"Find yourself a project, I think that students don't realize, once you find something you're passionate about you can get to 150 really easy and then kind of add on other things," Hurtado said. 
Hurtado also recommends the alternative of trying 15, 20, or even 30 different other activities to get the 250 goal. Doing so can help a student realize what they like and do not like and so students can know what direction they want to go in their life down the road. 
"Don't go down a road for the rest of your life trying to do something just because you think you're supposed to. Do something you love," Hurtado said. 
Interact 
The Interact Club is a prestigious academic club led by Club President Tracy Wang in room 305 with Mrs. Derbidge on Mondays. 
"This club is about making the school and community a better place, we do a lot of 'giving back to society' activities such as during Teacher Appreciation Week," Wang said. 
Interact Club has arranged many different donation drives for clothes and for canned food. 
"We also do a lot of holiday related activities and support patients in hospitals," Wang said.
The Interact Club provides free pizza for its members and offers many different community service opportunities. 
"We talk through any questions and discuss any ideas our members have and what they want to do in the next weeks or so," Wang said. 
Wang claims the most important activity Interact Club puts on is the clothes drive. The club has been doing the clothes drive since its genesis and they put on the drive for a four-month period each year. The Interact Club works alongside the Five Cities Homeless Coalition.
"The Clothes Drive is simple, we just set up 3 boxes and decorate them, we put one in the Front Office, one in the Math Hall and one in the Library," Wang said. 
The Interact Club has many talented artists that help decorate the boxes for the clothes drive. For promotion, the Interact Club has a special department that makes fliers. 
"Being a President is kind of hard because we have a new supervisor and I need to take some responsibilities and handle everything and be in charge of everything. It's hard to reach out to organizations on my own," Wang said. 
Wang has been the Club President for 2 years and has been a part of the club all four years. 
"I first got into the Interact Club because of the community service hours they offer every week and now I just feel really happy when I help people and participate in events that Interact Club offers," Wang said. 
For next year the Interact Club plans to have even more projects and ideas. 
"If you're a Freshman, Junior, or any grade level, join the club. Interact Club might change your life, change your experience, and change the way you look at school and might make you want to go to school on Monday," Wang said. 
Jazz
Jazz Club stands as the remaining spirit of the now-canceled Jazz course at Arroyo Grande High School. The club is led by Club President John Fairweather and advised by Mr. Colgan in room 150. 
"First semester I wanted to assemble all the people that took the course into a recreational jazz band and to an extent we did that, we had 10 to 12 working members," Fairweather said. 
However, when it came to the second semester, Fairweather was far too busy for a proper hold on the club. 
"There was a jazz band at Cuesta I was participating in and then I was a part of another jazz scholarship. That coupled with the fact that I didn't really have that good of a handle on the practicing routines, we didn't practice as much in the second semester," Fairweather said. 
Over the course of the year, Fairweather and his team learned three different songs, two of which Fairweather could recall, "Jazz Police" and "Watermelon Man". 
"We usually have a Tuesday meeting at lunch, just to reaffirm that everyone's practiced and everyone's gonna do it, and then that decides whether we do the actual session on Wednesday," Fairweather said. 
On Wednesdays the team meets up after school and sets up for about an hour and then warm up with some scales, running through the songs and practicing any "iffy" parts. 
"In Junior year I joined the Jazz course and that was canceled after a quarter which was unfortunate but over the summer I had practiced jazz because it was a VPA and after a time I realized that I could implement the chords into my own songwriting," Fairweather said. 
As Fairweather applied himself to Jazz he became more and more excited about music theory and improvisation. 
"Next year, it depends on if the course is going to be offered next year but I think that's unlikely because Dunsmore wants to continue choir and he cannot do both." Fairweather said. 
Fairweather intends to pass the leadership role onto someone who has a lot of experience. Fairweather hopes that whoever takes the position will be able to preserve and focus on the recreational element of Jazz. 
"Jazz Club is a really great opportunity because it's music that is not practiced in school because they already have the Concert Band and Marching Band. It would be awesome to get it started again because it's different music, it's like improvisation. It's not that much of a workload either, it'll maybe be three songs per quarter," Fairweather said. 
Mock Trial
Mock trial is simply what it says it is, a club that practices fake court trials. The subject of mock trials can seem daunting and complex but once broken down, it is not so complicated. 
"I've been doing Mock Trial for four years, it's been really fun and a good way to learn about public speaking," Club member Carlos Leiva said. 
Leiva reports that he initially was not a good public speaker, showing how anyone no matter the entering skill level can find enjoyment in the club. 
"I've definitely improved and at least I'm not as nervous when I do public speaking," Leiva said.
Leiva also mentioned that Mock Trial has helped him decide what he wants his profession to be moving forward after his senior year. Leiva initially wanted to be a scientist but now he has found his passion in being a lawyer. 
"I've met a lot of people that are friends with me now and it's been a very rewarding experience," Leiva said. 
Leiva warns that the first while in Mock Trial can be a rocky start and can prove to be difficult but he urges to not let that disway any newcomers. 
"I've always been doing the same kind of role in Mock Trial and I've gotten good at the role," Leiva said. 
Leiva plays as a Pre-trial attorney for the defense. 
"For the first couple of weeks, it's just getting to know each other and getting to know how [mock trial] works, the rules and everything, and then choosing what role you want to do," Leiva said. 
Once everyone is settled into their roles, and everyone has reviewed the case together everyone separates into their own smaller groups for certain roles. 
"The people that are attorneys and the people that are witnesses work together a lot. Then there are other roles who work apart like the role that I do, we just separate and work on the part of the case we're focusing on," Leiva said. 
Toward the end of a meeting, it is a lot of practicing and repetition scrimmaging against each other. 
"A competition starts with introductions. Everybody in the team goes through and says their name and then everyone starts with the pre-trial. Defense goes first, since they're the ones that are bringing the motion to either dismiss evidence or dismiss a certain count," Leiva said. 
After the introduction phase is the main body of the trial which is when there are two opening statements, examining and cross-examination of witnesses by each side, and then the closing statements. The judge then gives a verdict. 
"There are 3 or 4 [competitions] each year, so I've done anywhere from 12 to 16," Leiva said. 
Leiva points out how rewarding Mock Trial can be when the judge gives a verdict in the competitor's favor. All of the hard work paying off and winning has been an eye-opening experience for Leiva. 
"As the pretrial attorney for the defense, I am in charge of going over a constitutional issue with a case based on a certain constitutional amendment, in the Bill of Rights usually," Leiva said. 
Leiva has to either argue to dismiss a piece of evidence from the case because it was obtained illegally or to dismiss a certain count from the case based on a constitutional amendment. All of this happens before the main body of the trial. 
"I have to give a speech to the judge. I think you have four minutes to do that, and while giving the speech the judge will ask you questions based on cases surrounding the constitutional issue or different arguments surrounding the issue," Leiva said. 
The balancing of giving the speech and answering questions is where most of the difficulty of Leiva's role comes from. Leiva's role also gets a rebuttal where Leiva would speak based upon what an opponent said and why their arguments are flawed.
"Every other year there is a murder trial, and then they'll try to do things that are contemporary," Leiva said. 
Some examples of cases during Leiva's time in Mock Trial are a SWAT team being called on someone and then them getting injured and a trial about a murder suspect who was running an autonomous vehicle company. All cases are meant to be as accurate as possible to a real trial. 
"If you want to be an attorney you'll have more work than somebody who's a witness or a bailiff but as long as you're kind of interested in acting, law, or public speaking you have what it takes to be in the club," Leiva said. 
The Mock Trial club has been lacking in members in recent years because of the intimidation factor associated with the club. More students joining the club would benefit it greatly. 
"I think it's a great way to meet people and to have interesting experiences," Leiva said. 
Surf Club
The Arroyo Grande High School Surf Club, which meets in room 904 on Thursdays, is having its best year yet.
"Surf Club has had the best turnout in my last 4 years of participating," Club President Kai Ayala said. 
The club attendance average consistently ranges from 15 to 20 people per meeting.
"A typical meeting would include pizza and surf edits, however we frequently discuss upcoming competitions for the AG Surf Team," Ayala said. 
For all lovers of the beach, the surf club is a good atmosphere for mutual connection. 
"I fully believe the surf club is only getting better and there will be plenty more activities organized in the coming years," Ayala said.
Leave a Comment
About the Writer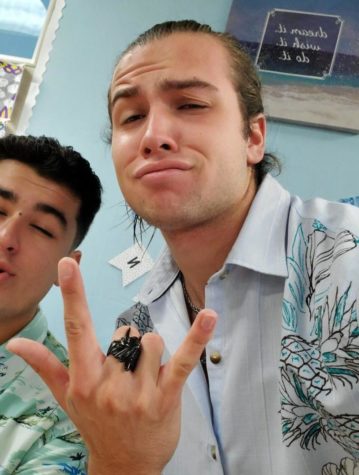 Ethan Weller, Reporter
Ethan Weller is a Senior and first-year newspaper student. He enjoys drawing, creative writing, and music. He is also an avid dog lover and quite regrettably...