Greek Week 2023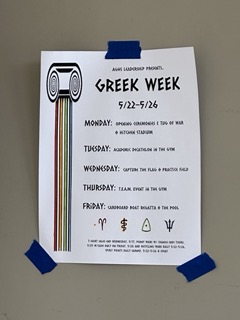 AGHS's 2023 Greek Week will take place on May 22- 26. The class competitions will take place every day during lunch. AGHS Leadership is encouraging every student to show up and cheer on their class. After many events throughout the school year as well as Greek Week shirt sales, the Juniors (Aphrodite) are currently winning.
Current Greek Week Points:
Juniors (Aphrodite)- 890
Seniors (Poseidon)- 878
Freshmen (Ares)- 750
Sophomores (Apollo)- 713
Monday is the tug-of-war competition. There will be three rounds of competition, a girl's round, a boy's round, and a co-ed round. 
4 Way Tug of War Points:
Girls Round: 150
Boys Round: 150
Co-Ed Round: 150
Tuesday is the Academic Decathlon where students will compete by answering different trivia questions.
Academic Decathalon Points:
1st: 500
2nd: 400
3rd: 300
4th: 200
Wednesday is Capture the Flag. There will be three separate rounds: boys, girls, and co-ed.
Capture the Flag Points:
Girls Round: 150
Boys Round: 150
Co-Ed Round: 150
Thursday is the T.E.A.M. event. T.E.A.M. stands for teamwork, endurance, accuracy, and munchies. There will be 125 points rewarded for each round.
Friday is the annual Boat Regatta. There will be individuals from each grade level racing their own boats for fun followed by the four class boats that will race for Greek week points. 
Boat Regatta Points:
1st: 500
2nd: 400
3rd: 300
4th: 200
Along with the lunchtime events, there will be penny wars, recycling wars, art wars, and daily spirit competitions going on throughout the week. Recycling war winners will be determined daily and the winner each day will receive 75 points.
Art War Banners (@ Opening):
1st: 200
2nd: 150
3rd: 100
4th:50
Spirit Points (awarded daily):
1st: 200
2nd: 100
3rd: 50
4th: 25
Leave a Comment
About the Contributor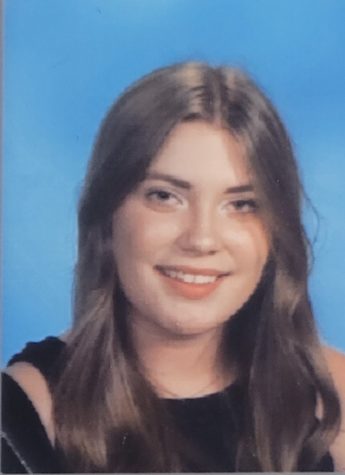 Layla Wallace, Reporter
Layla Wallace is a senior at Arroyo Grande High School. Outside of school she enjoys reading, watching Disney movies, going to Raising Cane's, and taste...