Race to Redemption: Team Yellow's epic 2023 comeback.
Redemption. After a sinking performance in the 2022 Greek Week, Team Yellow, which consists of Emme Landers, Brynn Termeer, and Marissa Sabo, are back again for their redemption race in Greek Week 2023.
"Last year was pretty bad and I don't even know how to compare it," Termeer said,  recounting last year's immediate sinkage during their heat.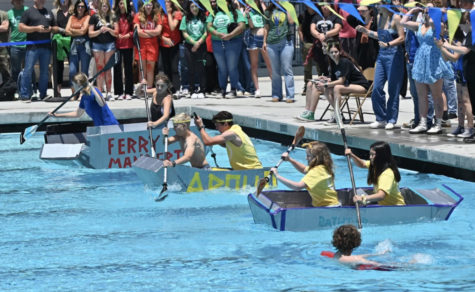 "We didn't actually plan it at all," Landers added. "We just taped together three boxes." Unfortunately, it would be the gaps between where the two boxes are tapped that would allow water to infiltrate the boat. 
"As soon as we go in it just started to collapse on itself, we didn't have enough tape so it just started filling with water," Landers said. 
After last year's unfortunate performance, Team Yellow has rallied together for their redemption round. 
"This year we got one really big box that's about five feet long," said Landers. "We only added support on the front and the back to be aquadynamic." 
Taking no chances this year Team Yellow asked Arroyo Grande High School science teacher Mr. Colgan for advice. 
"He gave us a fancy formula, we multiplied the weight of the boat, along with the volume and the length, and figured out how long it has to be," said Landers.
After purchasing 30 rolls of duct tape and investing 12 hours of hard work, Team Yellow feels prepared with the protection of science and ready for their redemption round to prove themselves boat regatta champions. 
"We want the experience, the fun but our goal this year is redemption," said Landers. 
Team Yellow, AGHS is behind you, good luck.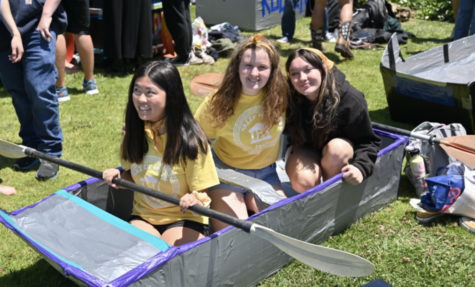 Leave a Comment
About the Contributor
Pema Secrest, Reporter


Pema Secrest is an incredibly average human being and wannabe writer. She is a sophomore at Arroyo Grande Highschool and is ready to leave. ...