What It's Taken: Ready For Return
Assistant Superintendent Empey and Director Stenson on keeping students safe on campus during COVID-19.
From the start of the pandemic, Lucia Mar has sought to navigate the unprecedented crisis brought on by COVID-19. Discussions with Assistant Superintendent Empey and Director Stenson detail the actions taken by the district to ensure safety for members of campus. These conversations also investigate the impact of the pandemic on Measure I, a property tax increase potentially used to improve campuses across the district.
For Jim Empey, education has always been about improving the lives of students.
"We all got into this business to impact young lives in a positive way," Empey said.
Over the past 30 years, he has held various positions, ranging from a teacher to administrator to assistant principal. For the last 4 years, he has served as Assistant Superintendent of Business Services.
"Doing whatever I can to make it easier for students and teachers to achieve their ultimate goal," Empey said is his favorite part of his job.
As Assistant Superintendent for Business Services, Empey oversees various topics within the district, from the District's budget to the maintenance of its facilities.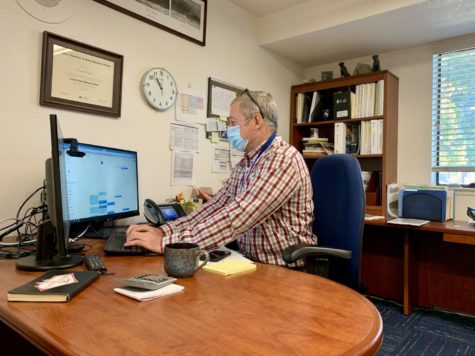 "Seeing money go into the right places and [positively] impacting kids" is what Empey strives to do.
As Lucia Mar faced many cascading crises that emerged as a result of the pandemic, Empey explained that the state and the federal government provided funding to assist the district in navigating the turbulent times. These funding sources included money to help recover learning loss, as well as prepare campuses to meet requirements for re-opening safely.
Empey estimates that Lucia Mar has received and spent around $20 million dollars throughout the pandemic. The most recent source of funding came from the American Rescue Plan, which has and will be used to keep schools open throughout the remainder of the pandemic, as well as reverse pandemic-induced learning loss.
Before students were even able to return to the campus, all Lucia Mar facilities had to meet the requirements set by the state, a key aspect being ventilation.
"Every edifice that we have an employee or student [within] needs to have a minimum ventilation requirement," Empey said.
He then added that "Our systems didn't have the recommended level of filtration… we didn't have the motors to push enough air through our filters."
The district found its solution in bipolar ionizers, a tool that had been used in hospitals, airports, and other school districts.
As a former science teacher, Empey joked that he is always happy to explain the science behind the ionizers.
"Ionizers take the COVID virus and other pollutants out of the air," Empey said."[As the particles brought in to go through the ionizers, they are] busted into ions through an electric field… [which] rips [COVID-19] apart."
All of this resulted in the smaller particles, like the one carrying COVID-19, latching themselves onto larger particles, then enabling them to be caught by the filter. Empey commented that they know the ionizers have been successful because the filters are replaced more often than before.
HVAC systems and their retrofitting was one step of a team effort to make campuses ready for students and staff. A key figure in other aspects of Campus maintenance is Director of Facilities and Maintenance, Andy Stenson.
Stenson began working at Lucia Mar in the 90s, as an assistant PE instructional aide. Since then, he has been able to hold positions ranging from elementary teacher, middle school principal, Assistant Superintendent of Business Services, and Assistant Superintendent of Curriculum. In 2018, Stenson succeeded Raynee Daley as Superintendent for the district, where he held that position for two years.
Since the start of the 2020/21 school year, he has held the director of Facilities and Maintenance position. Among the departments he oversees are custodians, maintenance, grounds employees, and the Measure I bond team.
"[When] there's visual evidence that you accomplished this goal," Stenson said is his favorite part of his position. The ability to actually see improvements on campuses, as opposed to teachers who cannot always see their students improving is what brings enjoyment to the job. A major aspect of his job is overseeing the construction of projects from Measure I.
In 2016, voters in the Lucia Mar district boundary approved a bond measure known as Measure I. Since then campuses have seen many improvements such as new classrooms throughout the district. Arroyo Grande High School itself has received over 19 million dollars in improvements, including the new track and stadium, band and choir rooms, as well as entire renovations of the 800 wing and the removal of portables near the math hall. Yet, like many other areas throughout the district, Measure I was also impacted by the pandemic.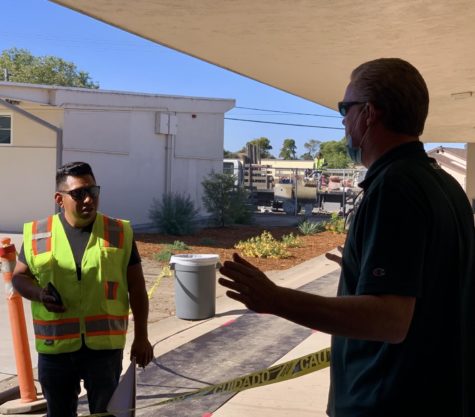 "The biggest impact COVID has had on construction is in the availability of materials," Stenson said. "When COVID hits and you have COVID breakouts within manufacturing facilities, they have to shut their doors."
According to Stenson, with the exception of concrete and lumber, every material has been in short supply. A key example of delays that are a result of material shortages are benches. Stenson stated that Lucia Mar ordered two plastic benches for Judkins Middle School, only to find out that it would take 22 weeks for them to arrive at its campuses.
Another challenge the pandemic has created for Measure I construction, the approval of building blueprints. Before the pandemic, Stenson noted that Lucia Mar would physically take all necessary documents to the Division of State Architecture offices in LA. Due to work from home restrictions, this became impossible.
"Since [the review board] are all working from home… [they] were totally overwhelmed with the technological aspect," Stenson said.
As a result of this, the delays in projects were spread evenly between the planning and construction stages.
Yet COVID-19 also presented benefits to Measure I.
"As odd as it sounds, COVID actually benefited us in some sense because kids weren't on campus…construction is easier to do when kids aren't on campus," Stenson said.
He cited the ability to remodel Shell Beach elementary school's parking lot without having to redirect traffic, bus routes or "create chaos."
While the Shell Beach project was successful during the pandemic, the inability to pursue other projects during this time is one of Stenson's regrets. Stenson wishes that the district had utilized the time without students on campuses to pursue projects that can only be done when students aren't present, such as window replacements at Harloe elementary.
Even though both Empey and Stenson see a wide range of challenges still persisting, they presented a sense of optimism for the future as a result of the Lucia Mar community.
Stenson finds this optimism in the taxpayers paying for the bond projects.
"The amount of appreciation to local taxpayers we have…we know how expensive it is… but we also know that the improvements we are making will last a lifetime and will have a tremendous impact on kids," Stenson said.
Despite serving the community for so long, these are unprecedented times for the district as a whole.
"In my 30 years in education, I cannot remember a time where it has been harder to be a leader, a decision-maker for a district whether it's a principal, district admin, board member, because there's no right answer… it puts these people in a tough spot," Empey said.
However, he is able to still find a silver lining in the midst of this dilemma.
"Tough times bring people together, more than anything else it's a realization that we have such good people at Lucia Mar… the teamwork and effort we have [exhibited]is a testament to this."
Leave a Comment
About the Contributor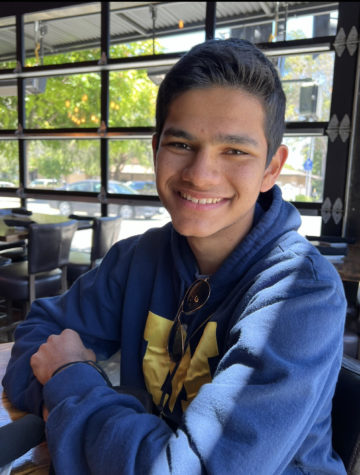 Melih Dookie, Reporter
Melih Cevik is a senior and in his second year with the Eagle Times.  He enjoys reading the news, following current events and watching college football....