Humans of AG – Evangeline McCune
Evangeline "Lainee" McCune is a driven, hardworking sophomore, following in the footsteps of her recently graduated brother. Last year, the school knew the McCune name when Josh McCune ('22) committed to UC Irvine to play D1 volleyball. However, now Lanie is making her mark on Arroyo Grande s a stellar athlete and through her involvement in student council as a sophomore class officer.
She excels at rising above what her brother had previously accomplished, "I'm competitive and I want to be better than him at everything basically," L. McCune said. Her encouragement is driven by the competitiveness instilled through her family dynamic, as L. McCune has continued to exceed athletic standards since playing varsity volleyball in her freshman year. 
She hopes to continue on her dreams, parallel to her brothers, but be better nonetheless. "The idea of [playing at] UC Irvine would be cool, but going to the University of Hawaii and playing volleyball seems like the biggest dream ever," McCune said. "I'm gonna have to work hard to get it. It's almost within reach, but I'm working hard still."
Although her time currently revolves around volleyball, McCune is taking seven classes as a sophomore.
"I don't think it's my parents so much [pushing me to do well]. I feel like I'm pretty independent," McCune said.
Instead of doubting herself or comparing herself to her peers, McCune puts her plans in a different light. "It's motivation to get better and work hard at everything you do," McCune said. Excitedly, she takes motivation from everything and everyone to push herself in all aspects of her life. 
Leave a Comment
About the Contributor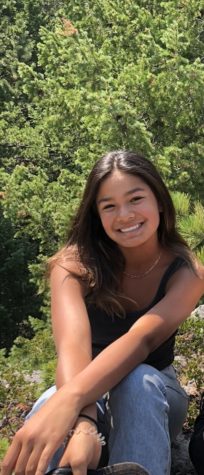 Jade Webber, Reporter
Jade Webber is a Junior at Arroyo Grande High School. She is very interested in international travel and playing soccer.  She listens to a wide variety...