Upcoming Events this December
Fill up Christmas break with fun festivities happening in San Luis County.
December holiday calendar of fun things to do in SLO country to fill winter break. 
December 1: Christmas Carolers at the Cliffs! This free event will be located at the Cliffs spa and resort from 5 pm to 7 pm.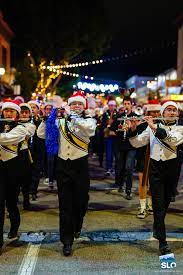 December 2: The 46th Annual Christmas Parade! This local tradition will be held in the closed-off streets in SLO from 7 to 9 pm.
December 2: Light up Atascadero. Starting at 5:30 there people are encouraged to sip and shop at the Art, Wine, and Brew tour. Then at 6 there will be a lighting of the historic city hall. Afterward, people can visit Mrs. and Mr. Claus on the backside of City Hall. This event goes from 5:30-8 pm. 
December 2: Morro Bay City Park Holiday Lighting. This festive event starts at 5 pm and is free and open to the public.
December 2: The Morro Bay Santa House opens. The Santa House will be open through the 18th and admission is free. Saturday hours are 4 pm-8 pm and Sunday hours are 12 pm-4 pm. Santa's house is on the corner of Embarcadero and Front st.
December 3: Morro Bay lighted Boat Parade. Watch the dazzling lights from 6 pm to 8 pm in the Bay. This event is free of admission.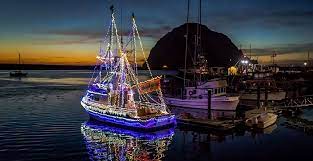 December 4: Annual Pet Parade. Include your pet in the holiday tradition by dressing them up in festive gear to join the parade at SLO's botanical garden starting at 4 pm. This event is in partnership with Woods Humane Society. 
December 5: Starting Dec. 5th the annual "Trail of Lights" starts in Atascadero. This showcase of festive lights is a fun free way to kick off the holidays.
December 4-6: Santa's Reindeer Pop-Up. In front of Atascadero's Historic City Hall from 12 pm-6 pm.
December 3-7: Circus Vargas Flying Trapeze Experience. This event is 60$ per person. The class on December 3rd is at 12pm and December 7 is at 2:30 pm. 
December 9: Mid-State Fair Markets. Shop for artisans and handcraft gifts from 12 pm-4 pm at Paso Robles Events Center. 
December 10 & 11:  Mid-State Fair Artisans and Crafts 10 am-4 pm
December 10 & 11: Civic City Ballet performs the Nutcracker at the Performing Arts Center. 10 am-2 pm on Saturday and 11 am-2 pm on Sunday. Tickets can be found on The PAC's website 
December 15: SLO's Farmers Market and Vintage in SLO. Shop for one-of-a-kind vintage clothes while enjoying the wholesome festivities of SLO's farmers market nightlife. 
December 16: SLO brew hosts JD Mcpherson for some Christmas songs. All ages are welcome to get tickets here for $28. 
December 23: Lights at Cambria Pines. 2 million lights will light up Cambria Pines with holiday cheer. This event runs from Nov 27th to January 2nd (closed December 24-25).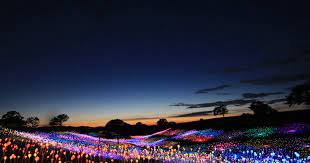 December 24: Sensorio. The iconic Field of Light is a very popular Christmas destination in SLO county and tickets sell out fast. Very Fast. Make sure to arrive no lat­er than 8:15 pm to pur­chase Gen­er­al Admis­sion tick­ets onsite. Adult tick­ets are $49, and chil­dren tick­ets are $28 at the door. You can also purchase tickets on Sensorio's website.