Get to know new teacher Mr. Holst
Christian Holst is another new teacher at AGHS, taking over US History and APUSH classes this year. 
Holst grew up in the Santa Barbara/Santa Ynez area for most of his life but also spent time in the Lompoc area as well. Holst is very active, he hikes and paddleboards. He also likes to read and cook. One of his first jobs after college was working on a cruise line. 
Now that we know Mr. Holst a bit better, let's look at what he's like in the classroom. Holst has been teaching for 19 years and doesn't seem to slow down anytime soon. 
He started teaching because of his love for education.
"I always appreciated education and for me, education was a way out of a particularly challenging home life, so I kind of saw it as my way to develop myself and give back to others, and I've always liked learning and processing new information," Holst said.
Holst took the same approach to education during the lockdown, focusing on the emotional aspect of education during COVID.
"Covid changed the way that we interacted with students, how we approach education in general, and what we focused on and valued," Holst said. 
The first year, Mr. Holst did stuff differently, "we really needed to focus on the social-emotional support of students more so than academics," he said. 
Teaching can often be a challenge, and Holst definitely has some challenges that he deals with while teaching. 
"Managing all the different personalities that might be in a classroom. Some periods are… composed of similar types of students. Other periods you have all different types of students so it gets challenging at times dealing with all these personalities," Holst said.  
Holst decided to teach history because of the value he sees in learning history. "I think that history helps us understand who we are today. A lot of the things that we study in history shape what goes around and goes on around us today," Holst said. 
We'll end this off with a typical day in Holst's classroom. As I'm a student in his US History class ill record my experience and my time throughout his class. The video below is a typical day in Mr. Holst's classroom as a US History student. 
Leave a Comment
About the Contributor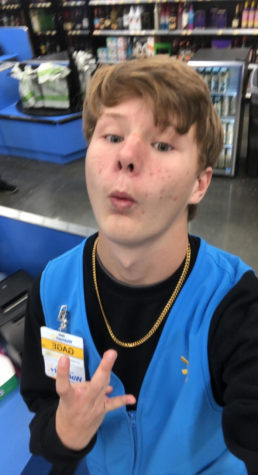 Gage White, Reporter
Gage White is a junior at AGHS. He likes to hang out with family and friends, play video games and play tennis.