What It's Taken: Road to Recovery
Assistant Superintendent Dixon and Director Gimlin on helping students get back on track during COVID-19.
From the start of the pandemic, Lucia Mar has sought to navigate the unprecedented crisis brought on by COVID-19. Discussions with Assistant Superintendent Dixon and Director Gimlin detail the actions taken by the district to ensure continued academic growth and recovery of learning loss.
These conversations with Hillery Dixon and Bret Gimlin serve to investigate the impact COVID-19 has had on measuring student learning,look into how students are performing academically in the form of quarter grades, and clarify ongoing confusion regarding Critical Race Theory and Social Emotional Learning.
Both Dixon and Gimlin have played an essential role in navigating student learning and instruction from the start of the pandemic.
Dixon, a member of the AGHS class of 1995, has held various positions in the district, ranging from English teacher at AGHS, Principal at Branch Elementary, and now, in her fourth year, the Assistant Superintendent for Curriculum and Instruction. Gimlin, who began with the district as an English tutor, has also held the duty of principal at Nipomo Elementary and Mesa Middle School.
Among her wide range of duties pertaining to both general and special education, Dixon believes the best part of her job is being there for faculty members.
"Being able to support our teachers [and] administrators to make their job easier to do their good work for students [is my favorite]."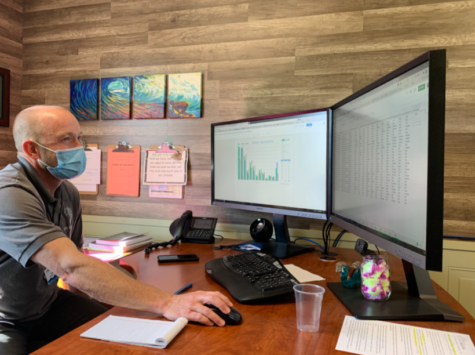 For Gimlin, building data analysis and being able to look at student learning in the form of dashboards and graphs to help the district is where he finds the most enjoyment.
Both Gimlin and Dixon's commitment to their job was tested at an unprecedented level over the last 20 months. As the pandemic first hit the nation in March of 2020, Lucia Mar was not spared from disruptions.
"The connectivity issues were immediately apparent," Dixon said.
"We trained every teacher [550 teachers in the district] how to use Google Classroom [and] the basics of Google Meet," Dixon said.
Teachers, parents, students and other staff were all given additional instructions on how to navigate the remainder of the year, both in English and Spanish.
Another challenge as a result of the pandemic was the measurement of academic achievement. Due to state wavering standardized test requirements, towards the end of the school year Lucia Mar had no data on how well students were performing.
"When we first entered the pandemic… we went into this troph of not having any real data to look at," Gimlin said.
Over the summer, the curriculum team developed different learning models for the possible different returns. The Lucia mar board's decision in early August to start the year off in distance learning allowed the team to improve distance learning.
"What is going to be most kind and most effective and meet our instructional requirements set by the state,"Dixon said, was the guiding question in developing the format.
During the summer institute, teachers across the district who taught the same grade levels and subjects collaborated on how to teach the most important essentials.
Yet despite the hard work, many students struggled academically. According to data presented by Mr. Gimlin, the number of unique students, individual students with F's during the first quarter increased by 67% with high schoolers compared to 2019.
The district, as a result, sent staff to assist students struggling. Dixon noted that everyone from administrators to counselors to librarians would visit homes to help students navigate any challenges, which ranged from technology to food insecurity to not fully understanding their course content.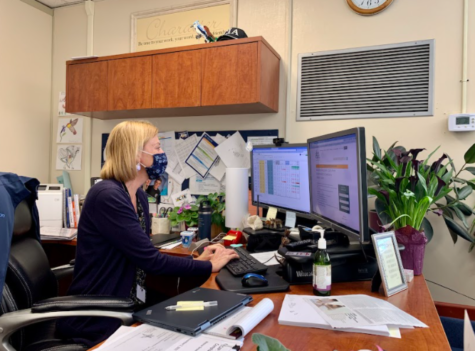 "We became a mobile social safety net," Dixon said.
She went on to say that among the most heartfelt experiences of the pandemic were images shared by the district's migrant coordinator, delivering food and technology to students living in isolated areas.
Each grade level faced its own areas of academic and social loss. According to Dixon, first through third graders struggled the most with reading, fourth and sixth graders struggled in mathematics. For middle schoolers, the inability to socialize was the key area of concern, and pertaining to high schoolers, helping students recover lost credit was the main challenge. In addition to allowing students to recover credit through a 7th period, Lucia Mar launched what would be known as the "Super Summer School".
The program, which was funded through the State of California's Expanded Learning Opportunities Grants, increased pay for teachers teaching summer school classrooms. Additionally, classes were held at both Nipomo and Arroyo Grande High School, to increase accessibility. As a result, 773 courses were completed for credit, doubling the amount in 2019, 377.
Amidst the challenges to serving students academically and supporting them socially as well, Lucia Mar, like many districts throughout the country, grappled with the issues of Critical Race Theory and Social-Emotional Learning.
"Social Emotional Learning is something we have worked with for years…a lot of students have difficult things at home… we need to make sure they are emotionally prepared to access their academic learning," Dixon said.
On the other hand, Dixon clearly stated that "Critical Race Theory is not something that we do at Lucia Mar." She went on to state that the district does provide training to teachers, especially history and language teachers on how to lead objective and fair discussions in the classroom around controversial topics.
Looking into the start of the school year, Lucia Mar has seen strong levels of success. According to the data provided by Mr. Gimlin, the number of unique students with F's has dropped significantly.
"Breaking it down to the unique student… when you [have] 1-2 F's you can make that up [more easily] than 3-6 F's," Gimlin said.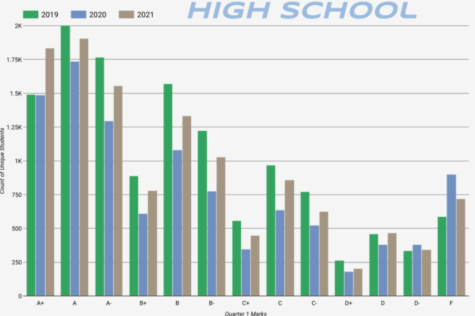 Furthermore, the number of unique students on the high school level earning A+'s have increased from 2019 as well, and students who are English Language Learners are performing better than those in 2019. Yet there is still work to be done, as the number of unique students failing a class is higher compared to 2019, despite enrollment decreasing.
Nonetheless, both Gimlin and Dixon expressed optimism and pride in the work the district has done with curriculum and instruction throughout the pandemic.
In the future, "We [need to] offer students a lot of different ways to show what they know," Dixon said.
Dixon expressed thankfulness to the entire community.
"Everything about these last two years has really been a team effort… everybody played their part … it wasn't easy for anyone… but being back in school is something to celebrate and we couldn't have done it without everyone."
Leave a Comment
About the Contributor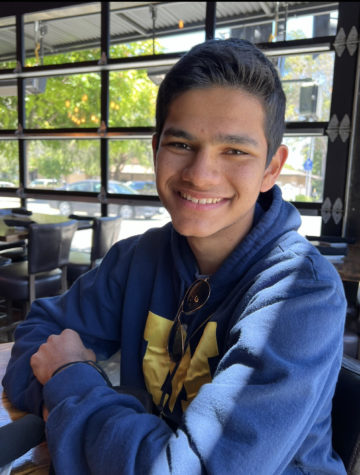 Melih Dookie, Reporter
Melih Cevik is a senior and in his second year with the Eagle Times.  He enjoys reading the news, following current events and watching college football....